Who is online?
In total there is
1
user online :: 0 Registered, 0 Hidden and 1 Guest
None
Most users ever online was
62
on 10th April 2015, 8:24 am
Latest topics
»
"Reservoirs can make water shortages worse"
by
Chilli-head
Today at 2:31 pm
»
What are you harvesting today?
by
Dandelion
12th November 2018, 6:52 pm
»
Tomato Relish
by
Ploshkin
7th November 2018, 9:29 am
»
Hydropower not sustainable either ...
by
Ploshkin
7th November 2018, 9:26 am
»
Some stuff I have made
by
FloBear
31st October 2018, 9:02 pm
»
It's now more difficult to dispose of plastic waste
by
Ploshkin
29th October 2018, 4:58 pm
»
Should I worry about - nylon strimmer line ?
by
Chilli-head
29th October 2018, 3:01 pm
»
Garlic storage pot ...
by
Dandelion
22nd October 2018, 9:06 pm
»
The October Garden - winding down or planning ahead?
by
Ploshkin
22nd October 2018, 11:28 am
»
knitting soft toys
by
Dandelion
14th October 2018, 4:20 pm
»
Beetle id please
by
Dandelion
4th October 2018, 5:43 pm
»
Important: Founder transfer ?
by
Chilli-head
1st October 2018, 2:57 pm
»
Need a login to insert an image
by
Ploshkin
1st October 2018, 2:47 pm
»
Kiva - Loans that change lives.
by
Dandelion
24th September 2018, 9:46 pm
»
Harvest season in the September garden
by
Dandelion
21st September 2018, 10:10 pm
»
Curry powder
by
Chilli-head
19th September 2018, 6:41 pm
»
What are you preserving today?
by
Ploshkin
16th September 2018, 11:08 am
»
Reflections on the season - 2018
by
Dandelion
14th September 2018, 7:04 pm
»
A good year for the forager ?
by
Ploshkin
12th September 2018, 9:03 pm
»
First go at proper wine
by
Chilli-head
10th September 2018, 10:07 am
Statistics
We have
241
registered users
The newest registered user is
bobfoz
Our users have posted a total of
45993
messages in
2376
subjects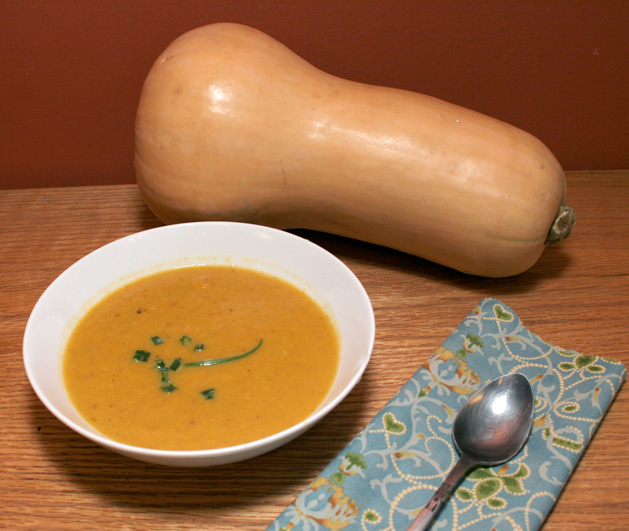 Ingredients
2 cups (660g) butternut squash, peeled, cubed, and roasted (about 1 medium squash)
2 cups (470g) chicken, turkey, or vegetable stock
1 small (130g) yellow onion, diced and sautéed
1/2 teaspoon (1g) salt (adjust to taste)
DirectionsStep 1
: Peel the butternut squash and then coat it with olive oil. Sprinkle it with salt, and roast it in the oven at a temperature around 400-425°F / 200-220°C until it begins to brown.
Tip:
To cut thick gourds such as squash and pumpkins, use a large chef's knife and a mallet. First, slice off a thin piece of the gourd so that it lies flat and doesn't roll, then gently tap the knife blade through the gourd.

Step 2:
Purée the squash and the rest of the ingredients in a food processor or with an immersion blender. When you go to purée the ingredients, hold back some of the squash and some of the stock, taste the purée, and see which you think it needs. Want it thicker? Add more squash. Thinner? Add more stock.
Notes:
This soup by itself is very basic. Garnish with whatever else you have on hand that you think might go well, such as garlic croutons and bacon. Or top with a small dab of cream, some toasted walnuts, and dried cranberries to give it a feeling of Thanksgiving. How about a teaspoon of maple syrup, a few thin slices of beef, and some fresh oregano? Chives, sour cream, and cheddar cheese? Why not! Instead of purchasing items to follow a recipe exactly, try using leftover ingredients from other meals to complement the squash soup.
If you're in a rush, you can "jump-start" the squash by microwaving it first. Peel and quarter the squash, using a spoon to scoop out the seeds. Then, cube it into 1-2" / 3-5 cm pieces, drop it into a glass baking pan that's both oven and micro- wave safe, and nuke it for four to five minutes to partially heat the mass. Remove from microwave, coat the squash with olive oil and a light sprinkling of salt, and roast it in a preheated oven until done, about 20 to 30 minutes. If you're not in a rush, you can skip the peeling step entirely: cut the squash in half, scoop out the seeds, add oil and salt, roast it for about an hour (until the flesh is soft), and use a spoon to scoop it out.
Excerpt from
Cooking for geeks
................................................................................................................................
Paradise Papercraft
Etsy shop
Lovely stuff!

One thing I find, it is much easier to cut into thick slices and roast with the rind ON, and then the flesh comes off the rind much easier once cooked...

Peeling raw pumpkins is much too much like hard work.

Compostwoman




Posts

: 5689


Join date

: 2009-11-08



I roast with the rind on and incorporate it. Tastes yummy after roasting.

I also often add a bit of curry powder to pumpkin soup - not enough to make it hot, but just enough to perk up the flavour - rather like adding nutmeg or mustard powder to a bechamel.
................................................................................................................................
www.killandcure.net/blog/
I have no success with butternuts here, so am cooking really thick rinded pumpkins which are just too tough to add to the soup.

My "extra added" is a small amount of dark brown sugar, muscovado or such like....it seems to do " something " to enhance the flavour, not quite sure why though...

will try the curry idea Billy, next time I do some.

Compostwoman




Posts

: 5689


Join date

: 2009-11-08



I'm waiting until next year, and hope that my butternuts actually germinate!

................................................................................................................................
The richer we have become materially, the poorer we have become morally and spiritually. We have learned to fly in the air like birds and swim in the sea like fish, but we have not learned the simple art of living together as brothers and sisters.

-Martin Luther King, Jr.

Dandelion

Admin




Posts

: 4753


Join date

: 2010-01-17


Age

: 62


Location

: Ledbury, Herefordshire





Similar topics
---
Permissions in this forum:
You
cannot
reply to topics in this forum