Who is online?
In total there are
2
users online :: 0 Registered, 0 Hidden and 2 Guests
None
Most users ever online was
62
on 10th April 2015, 8:24 am
Latest topics
»
Trying to avoid wilting in the July garden
by
Ploshkin
18th July 2018, 5:38 pm
»
What are you harvesting today?
by
FloBear
16th July 2018, 9:24 pm
»
Weekend at the Kettlewell hostel
by
Chilli-head
13th July 2018, 4:56 pm
»
No-dig gardening & weed control
by
freebird
10th July 2018, 7:40 pm
»
Pest Controls...
by
Chilli-head
9th July 2018, 2:09 pm
»
Summer has arrived in the garden in June
by
Dandelion
26th June 2018, 9:26 pm
»
whats on the menu
by
Chilli-head
25th June 2018, 9:38 pm
»
Proud for once ....
by
freebird
18th June 2018, 8:22 am
»
An excellent walk - 3 days in Snowdonia
by
FloBear
8th June 2018, 6:23 pm
»
The magazine rack
by
Chilli-head
1st June 2018, 4:44 pm
»
Hoping there May be a bit less rain on the garden !
by
Chilli-head
31st May 2018, 8:40 pm
»
Housekeeping
by
Dandelion
31st May 2018, 4:42 pm
»
Breadmaker recipes
by
FloBear
8th May 2018, 9:16 am
»
Hand Weeding Tool
by
FloBear
2nd May 2018, 5:03 pm
»
Gardening between the April showers
by
FloBear
30th April 2018, 8:52 am
»
What have I done in the workshop today?
by
Chilli-head
28th April 2018, 6:51 pm
»
Knitting in the round
by
FloBear
12th April 2018, 11:51 am
»
Anyone braving the garden in March ?
by
Chilli-head
1st April 2018, 10:21 pm
»
Seed swap anyone?
by
FloBear
15th March 2018, 3:56 pm
»
Waste collection consultation
by
Ploshkin
4th March 2018, 9:20 am
Statistics
We have
238
registered users
The newest registered user is
Pat B.
Our users have posted a total of
45675
messages in
2358
subjects
Donate to our Charity
The Homemade life supports Kiva - microloans for people in developing countries working to change their lives. These loans are repaid to our KIVA account, so your donation is used many times to help different people - literally the gift that keeps on giving..

How to turn a bar of soap into liquid hand soap
I have a confession to make. I don't like bar soap. It gets dirty and takes a long time to use up, so I usually get fed up with it and throw it in the trash.
Despite this, people seem to like to give me bar soap, which I feel guilty not using. So I have been buying liquid hand soap at $3 a bottle and putting the bar soap in a box with the intention of somehow finding a use for it.
Then it occurred to me that I might be able to convert the bar soap into liquid hand soap. Why didn't I think of it before? I did some research and found out that it is easy to do. All it takes is melting the soap with water, adding a little vegetable glycerin, and voilà, you have made liquid hand soap.
So I tried it and was thrilled to find that it works great! From one bar of soap, I made close to 2 liters of hand soap, which will last a long time. The only thing I purchased for this project was a $2 bottle of glycerin at my local drug store:
Glycerin is made from plant oils and is commonly used in soaps, shampoos, moisturizers, etc. Since bar soap already has glycerin in it, I tried this experiment both ways, with and without the added glycerin. I found that the below recipe worked fine without the glycerin, except that the soap tended to clump and didn't have as smooth a texture. It made enough of a difference that I would recommend adding the glycerin, but you can also try the recipe without it, if you wish.
Ingredients:
1 c soap flakes
10 c water
1 Tbs glycerin
Equipment:
Cheese grater
A large pot
Measuring cup and spoons
A spatula for stirring
A soap container with a hand pump
A container to hold excess soap
Funnel
Directions:
First, grate the soap. Get out your cheese grater, grab the soap, and get grating. I found this to be surprisingly easy, although the soap particles tend to float in the air as you grate. You can wear a mask to avoid breathing it in. When you're done, the soap flakes look like grated Parmesan:
One bar of soap yielded a little over 1.5 cups of flakes. The recipe only uses one cup of soap flakes, so I put the remaining soap in a jar for later use.
In a large pot, combine 1 cup soap flakes, 10 cups water, and 1 Tbs glycerin. Turn on medium-low heat and stir until the soap dissolves. This happens fast, about a minute or two.
Let the soap cool completely, then pour into the containers using the funnel. That's all there is to it!
As I mentioned, this recipe makes a lot of soap, about 6 bottles worth. I put the excess in a large bottle and am storing it under the sink. When I run out, I will simply pull out the big bottle and funnel some more into the smaller bottle.
You can also use this soap as body wash. To make it smell nice, add a drop or two of essential oil to the mix.
As I mentioned, the only thing I bought for this experiment was the glycerin. I reused the bottles and the soap was a gift. (Alternately, I could have saved soap slivers and made the hand soap that way.)
In the end, I used about $.40 worth of glycerin to make the equivalent of 6 bottles of hand soap. That's a savings $17.60, well worth the half hour of my time it took to make the soap.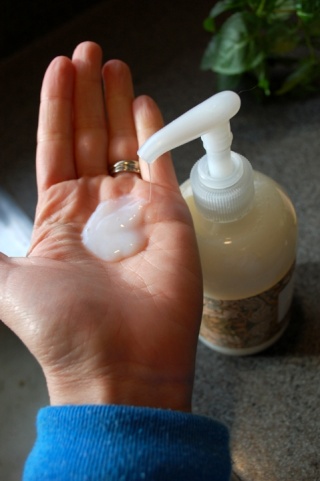 ................................................................................................................................
Paradise Papercraft
Etsy shop
oooo thanks so much for the step by step. I will def hv to try this one out

Kristy lee




Posts

: 144


Join date

: 2011-01-20


Location

: The Sunshine State of Oz



Me too. The soft soap we use for hand-washing in the kitchen (cheap as used with dirty gardening hands) is currently collapsed and prone in the soap dish. NOT a pretty sight! Tip - if you have a box-grater (like a box with a grater as a lid) you don't get any airborne particles of soap to make you sneeze. We use ours when we are grating beeswax for home-made furniture polish.
Love it, have been trying for ages. I have some lovely hard soap, but only use it in the draws of my dressing table to keep things smelling nice. This is a good alternative. Thanks

................................................................................................................................
No one can make you feel inferior without your consent.
Elenor Roosevelt


] Enjoy every second of your life, because time races by so much quicker than you think...

So take care of yourself, be Happy, Love Deeply and enjoy life!




polgara




Posts

: 3028


Join date

: 2009-11-16


Age

: 71


Location

: Sunshine Isle



Sounds great. Found any recipe for how to add pumice? I go through pumice hand soap in quantities in my line of work.

mr_sfstk8d




Posts

: 584


Join date

: 2010-12-01


Age

: 40


Location

: Peoria, IL, US




---
Permissions in this forum:
You
cannot
reply to topics in this forum