Who is online?
In total there is
1
user online :: 0 Registered, 0 Hidden and 1 Guest
None
Most users ever online was
62
on 10th April 2015, 8:24 am
Latest topics
»
Trying to avoid wilting in the July garden
by
Ploshkin
Yesterday at 5:38 pm
»
What are you harvesting today?
by
FloBear
16th July 2018, 9:24 pm
»
Weekend at the Kettlewell hostel
by
Chilli-head
13th July 2018, 4:56 pm
»
No-dig gardening & weed control
by
freebird
10th July 2018, 7:40 pm
»
Pest Controls...
by
Chilli-head
9th July 2018, 2:09 pm
»
Summer has arrived in the garden in June
by
Dandelion
26th June 2018, 9:26 pm
»
whats on the menu
by
Chilli-head
25th June 2018, 9:38 pm
»
Proud for once ....
by
freebird
18th June 2018, 8:22 am
»
An excellent walk - 3 days in Snowdonia
by
FloBear
8th June 2018, 6:23 pm
»
The magazine rack
by
Chilli-head
1st June 2018, 4:44 pm
»
Hoping there May be a bit less rain on the garden !
by
Chilli-head
31st May 2018, 8:40 pm
»
Housekeeping
by
Dandelion
31st May 2018, 4:42 pm
»
Breadmaker recipes
by
FloBear
8th May 2018, 9:16 am
»
Hand Weeding Tool
by
FloBear
2nd May 2018, 5:03 pm
»
Gardening between the April showers
by
FloBear
30th April 2018, 8:52 am
»
What have I done in the workshop today?
by
Chilli-head
28th April 2018, 6:51 pm
»
Knitting in the round
by
FloBear
12th April 2018, 11:51 am
»
Anyone braving the garden in March ?
by
Chilli-head
1st April 2018, 10:21 pm
»
Seed swap anyone?
by
FloBear
15th March 2018, 3:56 pm
»
Waste collection consultation
by
Ploshkin
4th March 2018, 9:20 am
Statistics
We have
238
registered users
The newest registered user is
Pat B.
Our users have posted a total of
45675
messages in
2358
subjects
Donate to our Charity
The Homemade life supports Kiva - microloans for people in developing countries working to change their lives. These loans are repaid to our KIVA account, so your donation is used many times to help different people - literally the gift that keeps on giving..

It has occurred to me that one type of chilli product I've not yet made for myself is the chipotle - smoked Jalapeno chillies. I want to put that right this year by doing some smoking.

This seems like a great use for the waste products of my woodworking/carving - I have supplies of hardwood chips, sawdust and shavings - mostly oak and beech (I think traditionally is should be pecan wood, but I'l have to improvise), a kettle barbequeue, a "barbequeue smoker" from Lakeland (a stainless steel box with holes in it which you fill with woodchips and sit in the coals), and whatever else I can contrive.

Has anyone here tried it ? Any tips ? My chilli plants are only about 1" high at the moment, so I have plenty of time to plan ahead !

Chilli-head

Admin and Boss man




Posts

: 2559


Join date

: 2010-02-23


Location

: Bedfordshire



Ok, I've tried it.  Had the day off work for unrelated reasons today, and it was a lovely autumnal day, so I thought I'd give it a go.  There's going to have to be some photos here ...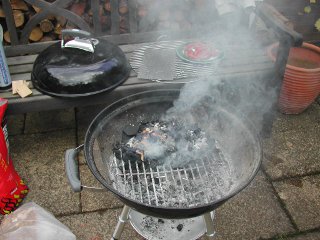 First step: kettle barbecue fired up with a small charcoal fire, just at one side of the grate.  Once it is going, a handful of oak chips thrown on to raise some smoke.  I started with dry ones till the fire was well established.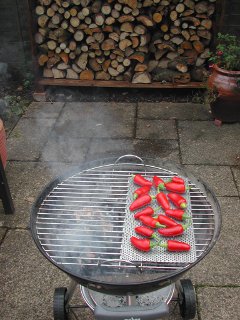 Grill on, and a perforated stainless steel sheet to stop the chillies falling through the bars, but to let the smoke percolate.  A few red Jalapenos go on, at the opposite side to the fire to avoid burning them, then the lid.  Bottom air holes were open throughout, and the top ones about 1/4 to 1/2 open.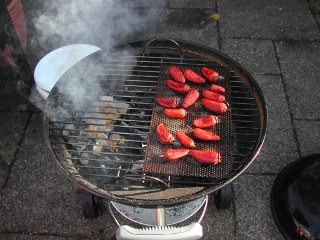 One hour later,  after topping up with oak chips and small offcuts, which have been soaked in water for an hour to make them smolder, rather than take flame.
I stopped smoking after four hours, for fear they might start to burn.  They have a leathery skin, and a sort of stickiness to them.  But I wish I could post the smell !  Not like a bought chipotle quite, because I used oak (not many pecan trees round here !),  but imagine bonfire toffee.  A rich, smokey, caramelised smell.  I shall dry them out completely by stringing then over a radiator before storing.

Chilli-head

Admin and Boss man




Posts

: 2559


Join date

: 2010-02-23


Location

: Bedfordshire





Similar topics
---
Permissions in this forum:
You
cannot
reply to topics in this forum