Who is online?
In total there is
1
user online :: 0 Registered, 0 Hidden and 1 Guest
None
Most users ever online was
62
on 10th April 2015, 8:24 am
Latest topics
»
Trying to avoid wilting in the July garden
by
Ploshkin
18th July 2018, 5:38 pm
»
What are you harvesting today?
by
FloBear
16th July 2018, 9:24 pm
»
Weekend at the Kettlewell hostel
by
Chilli-head
13th July 2018, 4:56 pm
»
No-dig gardening & weed control
by
freebird
10th July 2018, 7:40 pm
»
Pest Controls...
by
Chilli-head
9th July 2018, 2:09 pm
»
Summer has arrived in the garden in June
by
Dandelion
26th June 2018, 9:26 pm
»
whats on the menu
by
Chilli-head
25th June 2018, 9:38 pm
»
Proud for once ....
by
freebird
18th June 2018, 8:22 am
»
An excellent walk - 3 days in Snowdonia
by
FloBear
8th June 2018, 6:23 pm
»
The magazine rack
by
Chilli-head
1st June 2018, 4:44 pm
»
Hoping there May be a bit less rain on the garden !
by
Chilli-head
31st May 2018, 8:40 pm
»
Housekeeping
by
Dandelion
31st May 2018, 4:42 pm
»
Breadmaker recipes
by
FloBear
8th May 2018, 9:16 am
»
Hand Weeding Tool
by
FloBear
2nd May 2018, 5:03 pm
»
Gardening between the April showers
by
FloBear
30th April 2018, 8:52 am
»
What have I done in the workshop today?
by
Chilli-head
28th April 2018, 6:51 pm
»
Knitting in the round
by
FloBear
12th April 2018, 11:51 am
»
Anyone braving the garden in March ?
by
Chilli-head
1st April 2018, 10:21 pm
»
Seed swap anyone?
by
FloBear
15th March 2018, 3:56 pm
»
Waste collection consultation
by
Ploshkin
4th March 2018, 9:20 am
Statistics
We have
238
registered users
The newest registered user is
Pat B.
Our users have posted a total of
45675
messages in
2358
subjects
Donate to our Charity
The Homemade life supports Kiva - microloans for people in developing countries working to change their lives. These loans are repaid to our KIVA account, so your donation is used many times to help different people - literally the gift that keeps on giving..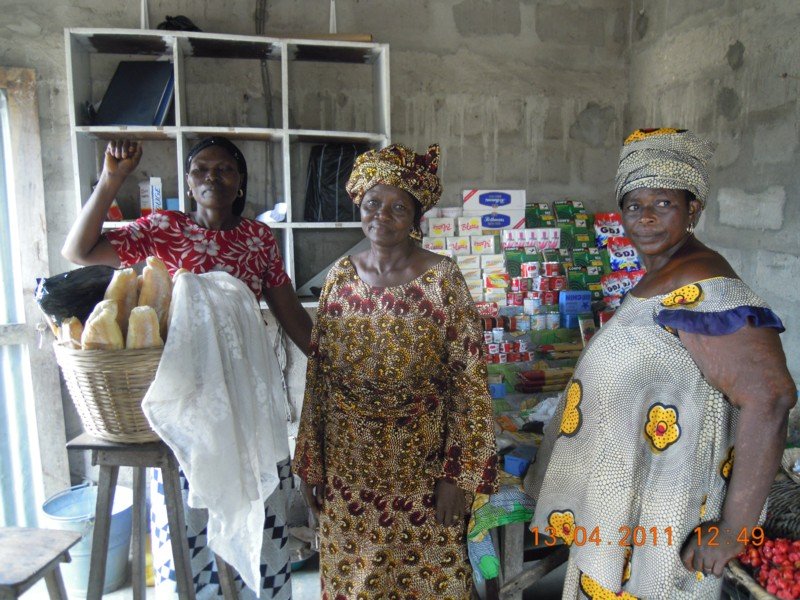 In this Group: Marguerite, M. Cécile, Affiavi Josephine
For privacy reasons, the Field Partner has requested that last names be undisclosed
Mahugnon Group is composed of three women who live in the same neighborhood of Sèdégbé in the municipality of Abomey Calavi. This is the third time that they apply for financial assistance from the microfinance institution Alidé in order to boost their activity level.
The group's representative is Marguerite, who is pictured raising her hand. She was born in Tokpa-Domè in Benin in 1958. She is widowed and provides for three children, who all attend school. Some 30 years ago, Marguerite settled in Sèdégbé, where she currently lives with her children. She provides alone for the household, thanks to the income from her business activity. For the past two decades Marguerite has been selling bread and other goods (canned sardines and tomatoes, sugar, milk, soap, pasta, etc.). Marguerite buys her supplies in Dantokpa, the international market of Benin, and her bread from bakers in Cotonou. It is from her home that she sells her goods. Eager to satisfy her customers' needs and increase her income, Marguerite and her group apply for another loan.
................................................................................................................................
Paradise Papercraft
Etsy shop

Compostwoman




Posts

: 5689


Join date

: 2009-11-08





Similar topics
---
Permissions in this forum:
You
cannot
reply to topics in this forum