Who is online?
In total there are
2
users online :: 0 Registered, 0 Hidden and 2 Guests
None
Most users ever online was
62
on 10th April 2015, 8:24 am
Latest topics
»
What are you harvesting today?
by
FloBear
Yesterday at 9:24 pm
»
Trying to avoid wilting in the July garden
by
Chilli-head
Yesterday at 10:03 am
»
Weekend at the Kettlewell hostel
by
Chilli-head
13th July 2018, 4:56 pm
»
No-dig gardening & weed control
by
freebird
10th July 2018, 7:40 pm
»
Pest Controls...
by
Chilli-head
9th July 2018, 2:09 pm
»
Summer has arrived in the garden in June
by
Dandelion
26th June 2018, 9:26 pm
»
whats on the menu
by
Chilli-head
25th June 2018, 9:38 pm
»
Proud for once ....
by
freebird
18th June 2018, 8:22 am
»
An excellent walk - 3 days in Snowdonia
by
FloBear
8th June 2018, 6:23 pm
»
The magazine rack
by
Chilli-head
1st June 2018, 4:44 pm
»
Hoping there May be a bit less rain on the garden !
by
Chilli-head
31st May 2018, 8:40 pm
»
Housekeeping
by
Dandelion
31st May 2018, 4:42 pm
»
Breadmaker recipes
by
FloBear
8th May 2018, 9:16 am
»
Hand Weeding Tool
by
FloBear
2nd May 2018, 5:03 pm
»
Gardening between the April showers
by
FloBear
30th April 2018, 8:52 am
»
What have I done in the workshop today?
by
Chilli-head
28th April 2018, 6:51 pm
»
Knitting in the round
by
FloBear
12th April 2018, 11:51 am
»
Anyone braving the garden in March ?
by
Chilli-head
1st April 2018, 10:21 pm
»
Seed swap anyone?
by
FloBear
15th March 2018, 3:56 pm
»
Waste collection consultation
by
Ploshkin
4th March 2018, 9:20 am
Statistics
We have
238
registered users
The newest registered user is
Pat B.
Our users have posted a total of
45672
messages in
2358
subjects
Donate to our Charity
The Homemade life supports Kiva - microloans for people in developing countries working to change their lives. These loans are repaid to our KIVA account, so your donation is used many times to help different people - literally the gift that keeps on giving..

So, what to do for a wedding where the happy couple already have all they need, and ask for no gifts, but say we can make them something instead if we like.  Sounds like a challenge.  Here's what I've made: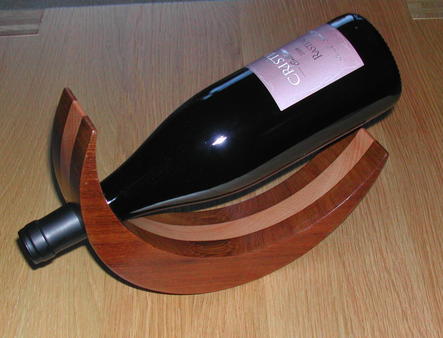 The design is from British woodworking magazine, based on an original seen at a French winemakers.  I've made mine from offcuts to hand - Iroko left over from making my front door, and a bit of beech for the sandwich filling.  Pretty straightforward to make - the three crescents are marked out with a template, sawn out, and glued together.  The final shaping I did with a pair of spokeshaves.  Hole for the neck drilled with a 32mm holesaw - the tricky bit, because it would stand out like a sore thumb if it weren't exactly in the middle or drilled wonky. Finished with Osmo Polyx oil.
I suppose it should really have a bottle of homemade mead in it, so they could have a traditional "honeymoon"
wikipedia wrote:
In many parts of Europe it was traditional to supply a newly married couple with enough mead for a month, ensuring happiness and fertility. From this practice we get honeymoon or, as the French say, lune de miel
Last edited by Chilli-head on 31st May 2018, 4:38 pm; edited 1 time in total

Chilli-head

Admin and Boss man




Posts

: 2559


Join date

: 2010-02-23


Location

: Bedfordshire



That is beautiful, C-H !

A very lovely gift. How long did it take to make, out of interest?

Compostwoman




Posts

: 5689


Join date

: 2009-11-08



Thanks CW. Time is always difficult to estimate, because I tend to do in short bits fitted in when I can grab a moment. I guess I spent about 1 1/2 hours marking out, sawing and glueing up. The spokeshaving was surprisingly quick (if you exclude time spent fettling old spokeshaves off ebay !), then a few 10 minute sessions of oiling. Maybe about 3 hours ?
It would be a lot quicker to glue the boards together then saw the crescent shape through the lot on a band saw - less fiddly glueing and less spokeshave work - But I don't have one ..

Chilli-head

Admin and Boss man




Posts

: 2559


Join date

: 2010-02-23


Location

: Bedfordshire



It's really quite gorgeous. I do love it. Are there any dowel pegs, or strictly glue up? I kind of understand it to be glue up based on the description, plus it won't be carrying any heavy loads, lol. I love the contrast of the two woods. I'm sure it will find a favorite place for them. Great build!

mr_sfstk8d




Posts

: 584


Join date

: 2010-12-01


Age

: 40


Location

: Peoria, IL, US



That is a very nice pressy to have, with the added bonus of being very tactile which I just love. Well done.

................................................................................................................................
No one can make you feel inferior without your consent.
Elenor Roosevelt


] Enjoy every second of your life, because time races by so much quicker than you think...

So take care of yourself, be Happy, Love Deeply and enjoy life!




polgara




Posts

: 3028


Join date

: 2009-11-16


Age

: 71


Location

: Sunshine Isle





................................................................................................................................
"the luxuries of civilisation satisfy only those wants which they themselves create..."
                 The Worst Journey In The World - Apsley Cherry-Garrard (1922)
                "Fleeing from the Cylon tyranny, the last Battlestar, Galactica,
    leads a ragtag, fugitive fleet, on a lonely quest—for a shining planet known as Earth."

Sparhawk




Posts

: 1787


Join date

: 2009-11-15


Age

: 51


Location

: Isle of Wight



No dowels used mr_sfstk8d. The glue
claims
to be stronger than the wood anyway, so the three layers are spread thinly on both surfaces with PVA and then the whole lot clamped up with a
lot
of G-clamps; it looks rather silly but ensures that the glue line is as thin as possible.
The weakest points are the ends of the crescent - the grain of the 3 layers run parallel; though it is tempting to cross them like plywood, the layers are too thick for that and the different movement across/along the grain would risk splitting. The other iffy bit is where the hole goes through - it may not be obvious in the picture but the bottle is only supported by the neck, it does not touch the other end of the crescent; I would have liked a
little
more meat left either side of the hole, but I had 3/4" stock to work with. It is probably just enough.
I really enjoyed the shaping with the spokeshave; it quite quickly produced a nice shape and finish, and a very satisfying pile of shavings (for CW: which I have mixed with kitchen waste and added to the compost heap

)

Chilli-head

Admin and Boss man




Posts

: 2559


Join date

: 2010-02-23


Location

: Bedfordshire




Compostwoman




Posts

: 5689


Join date

: 2009-11-08





Similar topics
---
Permissions in this forum:
You
cannot
reply to topics in this forum