Who is online?
In total there is
0
user online :: 0 Registered, 0 Hidden and 0 Guests :: 1 Bot
None
Most users ever online was
62
on 10th April 2015, 8:24 am
Latest topics
»
Summer has arrived in the garden in June
by
Chilli-head
Yesterday at 9:22 pm
»
Proud for once ....
by
Chilli-head
Yesterday at 9:17 pm
»
An excellent walk - 3 days in Snowdonia
by
FloBear
8th June 2018, 6:23 pm
»
What are you harvesting today?
by
FloBear
8th June 2018, 6:19 pm
»
The magazine rack
by
Chilli-head
1st June 2018, 4:44 pm
»
Hoping there May be a bit less rain on the garden !
by
Chilli-head
31st May 2018, 8:40 pm
»
Housekeeping
by
Dandelion
31st May 2018, 4:42 pm
»
Breadmaker recipes
by
FloBear
8th May 2018, 9:16 am
»
Hand Weeding Tool
by
FloBear
2nd May 2018, 5:03 pm
»
Gardening between the April showers
by
FloBear
30th April 2018, 8:52 am
»
What have I done in the workshop today?
by
Chilli-head
28th April 2018, 6:51 pm
»
Knitting in the round
by
FloBear
12th April 2018, 11:51 am
»
Anyone braving the garden in March ?
by
Chilli-head
1st April 2018, 10:21 pm
»
Seed swap anyone?
by
FloBear
15th March 2018, 3:56 pm
»
Waste collection consultation
by
Ploshkin
4th March 2018, 9:20 am
»
Hungry Birds
by
Dandelion
3rd March 2018, 9:49 pm
»
"Popular contents" newsletters
by
Dandelion
1st March 2018, 10:45 pm
»
It's now more difficult to dispose of plastic waste
by
Hairyloon
27th February 2018, 1:58 pm
»
What can *I* do ?
by
Chilli-head
27th February 2018, 11:59 am
»
New beginnings in the February garden.
by
Chilli-head
26th February 2018, 10:34 am
Statistics
We have
237
registered users
The newest registered user is
harley4570
Our users have posted a total of
45542
messages in
2355
subjects
Donate to our Charity
The Homemade life supports Kiva - microloans for people in developing countries working to change their lives. These loans are repaid to our KIVA account, so your donation is used many times to help different people - literally the gift that keeps on giving..

Summer is definitely over in the garden now, so when cooking dinner for a few friends at the weekend I had Parsnip, celeriac and leeks to choose from.  For the starter, I went with mini Greek πρασόπιτα, or leek pies.
Makes 24.
450g Leeks, white part only.
100g Feta
100g Cream cheese
1 tbl fresh chopped parsley
2 eggs
1 tbl butter
1 pack Filo pastry (6 sheets about 12x18")
50g butter melted with equal amount olive oil, for pastry.  Or just butter (more authentic) or oil (more healthy !)
Finely shred the leeks - slice lengthwise into quarters then chop crosswise.  Sweat them gently in a little butter until soft but not coloured.
Rinse the Feta and pat dry on kitchen towel to remove excess salt.  Crumble finely into a mixing bowl.  Mix in the cream cheese, the parsley and the leeks. Lightly beat together the eggs and stir them in to the filling mix.
Now the fun starts.  Take one sheet of filo, and brush it all over with the butter/oil. Cut it into strips - my sheets are about 12" x 18", and I cut it into 4 strips 12" x 4 1/2" by cutting in half then half again.
Making the triangular parcels is now just like making samosa, if that helps  

 .  Fold about 1/2" of the the two long edges inwards, giving you a slightly narrower strip with edges strong enough to survive the folding. Put a rather generous teaspoon of filling at one end, then fold the bottom right corner - Oh heck, it's easier to draw it ...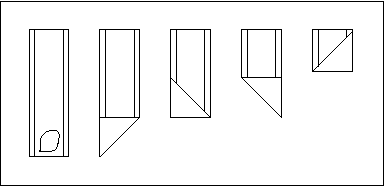 Tuck the end underneath.  Place on a greased baking sheet, and brush with more of the oil/butter.
Bake at 180C for about 12-15 mins,  Serve warm with whatever salad you still have left in the garden !
Note: take care not to fry your pastry brush in the pan of oil whilst you are fiddling about folding up the parcels  

Last edited by Chilli-head on 2nd May 2018, 5:19 pm; edited 2 times in total

Chilli-head

Admin and Boss man




Posts

: 2529


Join date

: 2010-02-23


Location

: Bedfordshire



Oh Yum

Going to give that a go tonight I think
................................................................................................................................
Paradise Papercraft
Etsy shop


Similar topics
---
Permissions in this forum:
You
cannot
reply to topics in this forum