Who is online?
In total there is
1
user online :: 0 Registered, 0 Hidden and 1 Guest
None
Most users ever online was
62
on 10th April 2015, 8:24 am
Latest topics
»
The magazine rack
by
Chilli-head
12th August 2018, 7:55 pm
»
New Things In Your Pond Today...
by
FloBear
12th August 2018, 6:30 pm
»
What are you harvesting today?
by
Dandelion
12th August 2018, 1:25 pm
»
What arts and craft things have you been making lately?
by
FloBear
30th July 2018, 1:53 pm
»
Trying to avoid wilting in the July garden
by
Dandelion
29th July 2018, 4:03 pm
»
whats on the menu
by
FloBear
27th July 2018, 12:32 pm
»
Weekend at the Kettlewell hostel
by
Chilli-head
13th July 2018, 4:56 pm
»
No-dig gardening & weed control
by
freebird
10th July 2018, 7:40 pm
»
Pest Controls...
by
Chilli-head
9th July 2018, 2:09 pm
»
Summer has arrived in the garden in June
by
Dandelion
26th June 2018, 9:26 pm
»
Proud for once ....
by
freebird
18th June 2018, 8:22 am
»
An excellent walk - 3 days in Snowdonia
by
FloBear
8th June 2018, 6:23 pm
»
Hoping there May be a bit less rain on the garden !
by
Chilli-head
31st May 2018, 8:40 pm
»
Housekeeping
by
Dandelion
31st May 2018, 4:42 pm
»
Breadmaker recipes
by
FloBear
8th May 2018, 9:16 am
»
Hand Weeding Tool
by
FloBear
2nd May 2018, 5:03 pm
»
Gardening between the April showers
by
FloBear
30th April 2018, 8:52 am
»
What have I done in the workshop today?
by
Chilli-head
28th April 2018, 6:51 pm
»
Knitting in the round
by
FloBear
12th April 2018, 11:51 am
»
Anyone braving the garden in March ?
by
Chilli-head
1st April 2018, 10:21 pm
Statistics
We have
239
registered users
The newest registered user is
IanF
Our users have posted a total of
45752
messages in
2358
subjects
Donate to our Charity
The Homemade life supports Kiva - microloans for people in developing countries working to change their lives. These loans are repaid to our KIVA account, so your donation is used many times to help different people - literally the gift that keeps on giving..

I've had a day out learning to use a pole lathe with Mark Allery at Wimpole Hall today.  Really good fun and pleasant company.  I loved the improvised wood burner - an old washing machine drum with an oven shelf on top - for the kettle, of course !  There is something very appealing about being able to go from a tree that was felled yesterday to something useful with simple tools, no electricity supply required, in really quite a short space of time.  There was talk of setting up a regular pole lathe group based at Wimpole, which would be great if it comes to pass.
We were glad of our hovels - the was a thunderstorm and a real downpour mid morning !
Still, it quickly cheered up. Me, just starting at my second piece of Ash: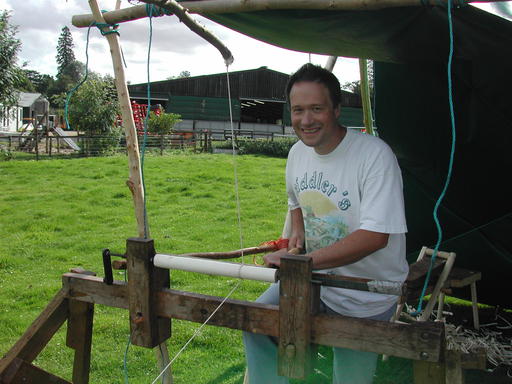 And a few bits and pieces to take home:
A small rolling pin, a candle holder and an eggcup.  The latter I finished off hollowing out with my Flexcut carving jack, which I remembered to put in my pocket at the last minute.
Last edited by Chilli-head on 31st May 2018, 4:57 pm; edited 1 time in total

Chilli-head

Admin and Boss man




Posts

: 2568


Join date

: 2010-02-23


Location

: Bedfordshire



So very jealous ..
Those are amazing btw
................................................................................................................................
Paradise Papercraft
Etsy shop
Sorry Adrian - I didn't mean to make you jealous !. And thanks of the kind words.

I am continuing to learn - I had assumed that, with a pole lathe, you could make anything so long as it's round. Not quite - oval. As it dries the wood shrinks - Mark said by 5% one way, 10% the other. And indeed, that is pretty much exactly what I measure. Not a problem with the rolling pin of candle holder, but my egg is a tad wobbly ..

Chilli-head

Admin and Boss man




Posts

: 2568


Join date

: 2010-02-23


Location

: Bedfordshire



Re shrinkage

You can turn the objects again after they have dried a bit if roundness is critical.

It was a good day at Wimpole , wasn't it? Hope the group gets off the ground - there seems to be quite a bit of enthusiasm.

Andy M


AndyM




Posts

: 3


Join date

: 2012-08-06



Hello - fancy meeting you here ! I don't know how you found us

, but welcome to
Homemade Life

I'm more used to working with seasoned wood myself, so although seasonal movement is always an important factor in design, I'm used to expecting a few percent movement. Amazing to see 5-10% shrinkage in just a day or two with no splitting. It had occured to me that you could make critical bits oversize and finish them to round when dry. I don't think I'd get my eggcup back on a lathe too easily though, so I'll live with a wobbly egg and call it "character" - I get away with a lot that way ..
It was a good day - once the sun came out and Mark showed my how to use the skew without taking great bites out every now and then, I started regretting not having booked on for the Sunday too. We should do it again soon - is there anything we should be doing to encourage things along ?

Chilli-head

Admin and Boss man




Posts

: 2568


Join date

: 2010-02-23


Location

: Bedfordshire



Simon is very keen to get a local group going - tell him you are interested. The plan is to decide on a fixed time to meet and he will provide site, equipment etc to get it going.

Andy M

AndyM




Posts

: 3


Join date

: 2012-08-06



Well, the (Wim)pole lathers met again last weekend. AndyM and Simon did some bowl turning on a bowl lathe, which was quite an impressive bit of kit. A good time was had, and my favourite stainless steel frying pan is now sporting a nice new cherry wood handle to replace the old rather charred and wobbly one !

Chilli-head

Admin and Boss man




Posts

: 2568


Join date

: 2010-02-23


Location

: Bedfordshire



We met again last Sunday for another good day's turning. I found myself struggling with the skew chisels; I tried all the tools to hand, sharpened them, tried again, and concluded that it wasn't the chisel, but what was at each end of it that was causing my difficulties. The lesser of the problems was at the pointy end; the sycamore we had to work was not so easy as the cherry that I was rather spoiled with last time. The larger source of problem was at the handle end of the chisel though; by the afternoon I'd more or less remembered what Mark taught me about using the skew properly...
In the end, my little homemade
skew chisel
worked well enough and kept it's edge nicely. Came away with a lemon squeezer and a dibber, and a "thing" which I plan to gouge out into a small bowl.

Chilli-head

Admin and Boss man




Posts

: 2568


Join date

: 2010-02-23


Location

: Bedfordshire



Apart from a well adjusted nut on the handle, with a skew it is the edge/corners that dig in, so it is important to use only the middle of the cutting edge at first. The skew must rest on the bit you have already smoothed and you must work "downhill". Assuming that you are working from right to left, the tool must be at an angle to the axis of the turning wood ie handle end pointing towards your right shoulder if working towards the left AND also rotated slightly anticlockwise so only the left edge is on the toolrest.
see
http://www.bodgers.org.uk/bb/phpBB2/viewtopic.php?f=1&t=1725
and also to the bottom of this page
http://www.stuartking.co.uk/index.php/articles/video/

AndyM




Posts

: 3


Join date

: 2012-08-06



Thanks for the tips Andy. I read that post sitting at my desk, trying to visualise the position - I had a fleeting memory of an "A"-level physics exam, sitting there arranging the fingers of both hands at right angles and looking backward and forward between them, trying desperately to remember which hand was for motor rule, and which for dynamo. Then looking up and realising that a good few people were stuck on the same question

Anyway, I got some sneaky practice in today in the garden, trying out my lathe I've just finished. Smoothing with the skew went much better, but I still need practice turning beads !

Chilli-head

Admin and Boss man




Posts

: 2568


Join date

: 2010-02-23


Location

: Bedfordshire





Similar topics
---
Permissions in this forum:
You
cannot
reply to topics in this forum