Who is online?
In total there is
1
user online :: 0 Registered, 0 Hidden and 1 Guest
None
Most users ever online was
62
on 10th April 2015, 8:24 am
Latest topics
»
Plummeting potato sales
by
Chilli-head
Today at 10:25 am
»
New Things In Your Pond Today...
by
FloBear
15th August 2018, 4:57 pm
»
The neglected August garden
by
Ploshkin
15th August 2018, 12:45 pm
»
The magazine rack
by
Chilli-head
12th August 2018, 7:55 pm
»
What are you harvesting today?
by
Dandelion
12th August 2018, 1:25 pm
»
What arts and craft things have you been making lately?
by
FloBear
30th July 2018, 1:53 pm
»
Trying to avoid wilting in the July garden
by
Dandelion
29th July 2018, 4:03 pm
»
whats on the menu
by
FloBear
27th July 2018, 12:32 pm
»
Weekend at the Kettlewell hostel
by
Chilli-head
13th July 2018, 4:56 pm
»
No-dig gardening & weed control
by
freebird
10th July 2018, 7:40 pm
»
Pest Controls...
by
Chilli-head
9th July 2018, 2:09 pm
»
Summer has arrived in the garden in June
by
Dandelion
26th June 2018, 9:26 pm
»
Proud for once ....
by
freebird
18th June 2018, 8:22 am
»
An excellent walk - 3 days in Snowdonia
by
FloBear
8th June 2018, 6:23 pm
»
Hoping there May be a bit less rain on the garden !
by
Chilli-head
31st May 2018, 8:40 pm
»
Housekeeping
by
Dandelion
31st May 2018, 4:42 pm
»
Breadmaker recipes
by
FloBear
8th May 2018, 9:16 am
»
Hand Weeding Tool
by
FloBear
2nd May 2018, 5:03 pm
»
Gardening between the April showers
by
FloBear
30th April 2018, 8:52 am
»
What have I done in the workshop today?
by
Chilli-head
28th April 2018, 6:51 pm
Statistics
We have
239
registered users
The newest registered user is
IanF
Our users have posted a total of
45767
messages in
2360
subjects
Donate to our Charity
The Homemade life supports Kiva - microloans for people in developing countries working to change their lives. These loans are repaid to our KIVA account, so your donation is used many times to help different people - literally the gift that keeps on giving..

I've been looking around to gather some tools for pole lathe turning.  Not as straightforward as I expected; most tools are made for powered lathes.  For a pole lathe, with only human power to turn it, we're not so interested in the wear and heat resistance of high speed steel tools, but the finer edge of a traditional carbon steel tool is better suited, as is a lower grinding angle. The only commonly available tools I could find made for the pole lathe are the Ashley Iles set.  I notice that Robin Wood suggests finding a friendly blacksmith or making your own, which sounds too much like a challenge, so I though I'd have a go at a smallish skew chisel.  This has the advantage of not needing blacksmith's skills or equipment, just grinding and heat treating.
To make the handle, I split a piece of wood from my (sadly deceased) apricot tree.  Turned it to a handle.  For a ferrule, I found some scrap brass tube, cut it to length with a plumber's pipe cutting tool, bit of brasso, then tap it on to the handle.  Drilled a hole for the blade to fit.
The blade is Sheffield steel, in the form of "ground flat stock", this is an O1 ~1% carbon steel. I roughly shaped the skew, leaving a blunt end to grind later, to avoid a thin edge which might get overheated when hardening.  I also hacksawed and filed a pointed tang on the handle end.  The steel is hardened by heating and quenching in oil;  I used a propane blowlamp, with the blade sitting in the frog of a
bone DRY
housebrick (don't want anything exploding !) to heat it to bright red - I could only harden the last inch with the heat I had available, but it will take years of sharpening before that matters.  Into the oil whilst still glowing.  I was quite relieved at this point to have only a cloud of smoke, and not a fire to extinguish !  Then polish it up with fine wet or dry, and heat again - this time gently - until the oxide gives it a straw yellow colour, then back into the oil.
Final grind on the wet grinder, polish, sharpen, tap the blade into the handle - pop the tang into the hole, and with blade pointing up, smartly tap the top of the handle down onto a block of scrap hardwood until the blade is driven home.
A wipe of Danish oil on the handle, and here it is, ready for a test drive at the weekend: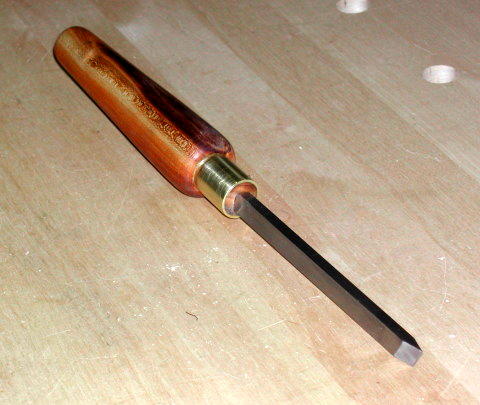 Last edited by Chilli-head on 31st May 2018, 4:55 pm; edited 1 time in total

Chilli-head

Admin and Boss man




Posts

: 2573


Join date

: 2010-02-23


Location

: Bedfordshire



Clever person, it looks absolutly great. Hope it works as well as it looks.

................................................................................................................................
No one can make you feel inferior without your consent.
Elenor Roosevelt


] Enjoy every second of your life, because time races by so much quicker than you think...

So take care of yourself, be Happy, Love Deeply and enjoy life!




polgara




Posts

: 3028


Join date

: 2009-11-16


Age

: 71


Location

: Sunshine Isle




................................................................................................................................
The richer we have become materially, the poorer we have become morally and spiritually. We have learned to fly in the air like birds and swim in the sea like fish, but we have not learned the simple art of living together as brothers and sisters.

-Martin Luther King, Jr.

Dandelion

Admin




Posts

: 4702


Join date

: 2010-01-17


Age

: 61


Location

: Ledbury, Herefordshire



Damn thats clever
................................................................................................................................
Paradise Papercraft
Etsy shop
It looks beautiful - hope it works beautifully too.

freebird




Posts

: 1681


Join date

: 2011-10-19


Age

: 61


Location

: South East England





Similar topics
---
Permissions in this forum:
You
cannot
reply to topics in this forum