Who is online?
In total there is
1
user online :: 0 Registered, 0 Hidden and 1 Guest
None
Most users ever online was
62
on 10th April 2015, 8:24 am
Latest topics
»
When we come out of the other side of this ...
by
freebird
Yesterday at 9:51 pm
»
Exercise in the April garden
by
Dandelion
7th April 2020, 9:26 pm
»
Comfrey/nettle feed maker
by
Chilli-head
5th April 2020, 9:43 am
»
The March gardener
by
Dandelion
4th April 2020, 6:16 pm
»
My new hobby
by
FloBear
26th March 2020, 12:33 pm
»
Changing email address
by
FloBear
19th March 2020, 3:54 pm
»
What are you harvesting today?
by
Dandelion
14th March 2020, 11:59 am
»
The gardener's yearbook
by
Chilli-head
3rd March 2020, 10:34 am
»
Any garden jobs for February ?
by
Chilli-head
26th February 2020, 1:14 pm
»
Welcome guest
by
Dandelion
10th February 2020, 9:55 pm
»
2020 Birdwatch
by
Ploshkin
8th February 2020, 3:04 pm
»
Not cold enough!
by
Dandelion
2nd February 2020, 3:21 pm
»
January: the gardening year reborn
by
freebird
25th January 2020, 10:16 pm
»
December in the garden ?
by
Dandelion
31st December 2019, 4:57 pm
»
The Christmas workshop
by
freebird
15th December 2019, 10:05 pm
»
The November garden - time to tidy, but not too much !
by
Dandelion
28th November 2019, 8:31 pm
»
My new garden.
by
Ploshkin
19th November 2019, 6:40 pm
»
What arts and craft things have you been making lately?
by
FloBear
19th November 2019, 5:55 pm
»
The October garden, a pause for reflection
by
Dandelion
22nd October 2019, 8:39 pm
»
Allotments could be key to sustainable farming
by
Chilli-head
20th October 2019, 2:52 pm
Statistics
We have
245
registered users
The newest registered user is
skweller
Our users have posted a total of
46344
messages in
2364
subjects
Donate to our chosen Charity

Homemade Life forum supports
Kiva micro-loans
: supporting people looking to create a better future for themselves, their families and their communities. You can donate
here
Page 2 of 2 •

1, 2

After having almost forgotten about it, we spotted comings and goings from our nestbox again this year. I've had a small TV sitting around waiting for re-homing, so I set it up to watch what was going on - blue tits, I think 4 or 5, the largest already set to fledge. That one has now gone, and his smaller siblings are starting to flap around inside the box. So, a better year for them hopefully.

Chilli-head

Admin and Boss man




Posts

: 2919


Join date

: 2010-02-23



That's good to hear Chilli Head. We are much visited in the winter by blue, great, coal and marsh tits. I can usually tell which have had a good year and which haven't. I think the blue tits are most consistent in numbers the others fluctuate.

Ploshkin




Posts

: 1494


Join date

: 2013-07-18


Location

: Mid Wales



Empty nest box this morning, but for one unhatched egg. Looks like they successfully got 5 to fledge. Will be on the lookout for fluffy little balls perched around the garden over the next few days, and try to chase away the neighbour's cat


Chilli-head

Admin and Boss man




Posts

: 2919


Join date

: 2010-02-23


Location

: Bedfordshire



That's really good news Chilli Head.
Sadly, this one didn't get that far. She was very low down underneath a trailer and disappeared a few days after I had seen her. There were no feathers and just one egg on the ground. I think she must have abandoned the nest - magpies would be a number one suspect.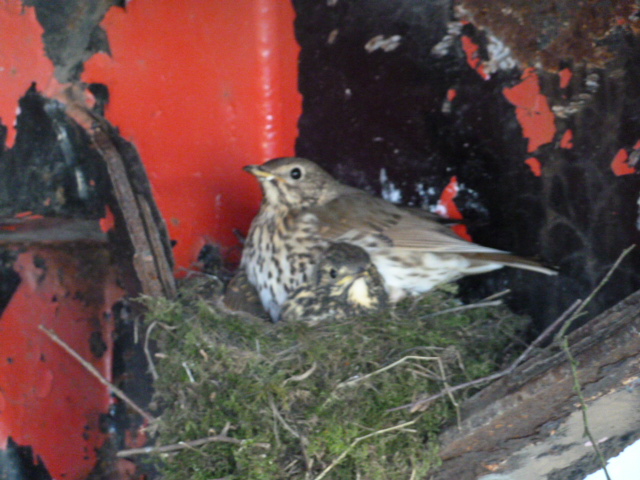 Ploshkin




Posts

: 1494


Join date

: 2013-07-18


Location

: Mid Wales



That's such a shame, Ploshkin.

On another forum one of the members has had 5 Great Tits fledge from her camera box. It's all the more pleasing because last year all the chicks died.

And I am hooked on the Salisbury Peregrine webcam where the 4 chicks are growing fast. It's incredible how mucky the whole area has become - discarded bits of prey, poo up the sides of the box and in the area all around it - unlike the houseproud Great tits who removed the poo in neat parcels!



FloBear




Posts

: 750


Join date

: 2015-02-10


Location

: East Dorset



While we were lambing and out and about in the early hours we had several sightings of a barn owl over the yard.  I've seen them occasionally in the area but not that close to home before.  When my niece and her boyfriend were staying they also saw it and heard it on several occasions (they met at a bird of prey centre where they both volunteered so they know their owls).  Boyfriend introduced me to the sound and I can sometimes locate its position in the trees when I am out shutting in the chickens.  Recently, on just a couple of occasions, I have heard distinctive, raspy, heavy breathing coming from up in the roof of our big cattle shed during the day.  We have a loft in the front corner and there is a gap between the shed roof and the wooden roof of the loft.  When boyfriend was here he said he thought it might be taking an interest in the loft - it's in the direct sight line (about 200m) from the edge of the forestry at the top of the bank opposite which they apparently like.
Anyway, I definitely don't want to go up a ladder and peer in the gap - I don't want to disturb anything that might be there and people have lost eyes to barn owls.   I have thought many times about a camera trap and this seems the perfect excuse to get one so I'm off to do some research.

Ploshkin




Posts

: 1494


Join date

: 2013-07-18


Location

: Mid Wales



Ooh, exciting prospect, Ploshkin.
Hope you have a budding owlery.

FloBear




Posts

: 750


Join date

: 2015-02-10


Location

: East Dorset




Ploshkin




Posts

: 1494


Join date

: 2013-07-18


Location

: Mid Wales




FloBear




Posts

: 750


Join date

: 2015-02-10


Location

: East Dorset



Page 2 of 2 •

1, 2

---
Permissions in this forum:
You
cannot
reply to topics in this forum