Who is online?
In total there are
4
users online :: 1 Registered, 0 Hidden and 3 Guests
Chilli-head
Most users ever online was
62
on 10th April 2015, 8:24 am
Latest topics
»
No-dig gardening & weed control
by
freebird
Yesterday at 5:10 pm
»
Homemade onion sets
by
freebird
Yesterday at 7:50 am
»
What are you harvesting today?
by
Dandelion
11th November 2017, 10:48 pm
»
Autumn sowing in the November Garden
by
Chilli-head
8th November 2017, 12:10 pm
»
What arts and craft things have you been making lately?
by
FloBear
6th November 2017, 7:11 pm
»
New arrivals
by
FloBear
5th November 2017, 4:26 pm
»
Wrapping up in the October garden
by
freebird
30th October 2017, 12:41 pm
»
Seed Banks and reliable suppliers
by
Dandelion
26th October 2017, 2:16 pm
»
Excellent publication
by
Dandelion
18th October 2017, 5:07 pm
»
What have I done in the workshop today?
by
Chilli-head
15th October 2017, 8:46 pm
»
Masaledar Sem (spicy green beans)
by
freebird
15th October 2017, 8:08 pm
»
Autumn planting vegetables
by
freebird
7th October 2017, 12:58 pm
»
Greek village bread
by
Chilli-head
5th October 2017, 1:57 pm
»
Passata machine
by
Ploshkin
4th October 2017, 12:21 pm
»
Bad press for woodburners
by
freebird
29th September 2017, 7:20 pm
»
Reflections on the seaon 2017
by
freebird
28th September 2017, 9:35 pm
»
The September garden
by
FloBear
21st September 2017, 8:59 pm
»
Wildlife cameras
by
FloBear
9th September 2017, 11:53 am
»
whats on the menu
by
Dandelion
5th September 2017, 10:10 pm
»
Insect hotel
by
FloBear
31st August 2017, 10:07 pm
Statistics
We have
634
registered users
The newest registered user is
mailedusentials
Our users have posted a total of
44868
messages in
2331
subjects
Donate to our Charity
The Homemade life supports Kiva - microloans for people in developing countries working to change their lives. These loans are repaid to our KIVA account, so your donation is used many times to help different people - literally the gift that keeps on giving..
I have grown more chillies than I can eat !  Time to make hot sauce.  This recipe is a modification of one by Rick Bayless, but the ingredients are a pretty common selection.  My changes are to replace the original
Orange Habanero
chillies with
Paper lantern
, another
Capsicum Chinense
, and to replace some of the vinegar content with lime juice.  The aim is to reduce the vinegar taste of the sauce which I don't favour, but instead to maximise the fruity flavour which is the sheer pleasure of the nicest
Chinense
chillies.
Ingredients:
12 Paper lantern chillies (or other
Capsicum Chinense
) :
4-5 fat cloves of garlic, unpeeled.
1/2  a large, or one small onion, diced
1 medium carrot, peeled and diced
1/2 cup cider vinegar
1 cup water
1/2 cup lime juice - 2 limes should do it.
2 tsp salt
1/4 tsp sugar
Heat a heavy pan over a medium heat, and place the garlic cloves in it.  Dry roast, turning, until the skin begins to blacken where it has been touching the pan - about 10 mins.  Peel the garlic and put it in a blender.
Put the water, vinegar, onion, carrot and the chillies in a small pan.  No need to chop the chillies ( safer for the hands

), just pull off the stalks.  Simmer for 10 minutes partly covered to cook the carrot, then leave to cool a little - this is to avoid a blender explosion !
Add the contents of the pan to the blender, and the juice of the limes, salt and sugar.  Blend until completely smooth.  Place in clean jars (I sterilised mine in the oven, but that might be overcautions).  Leave to cool then refrigerate.  It should keep for some months in the fridge.  But it won't in my house !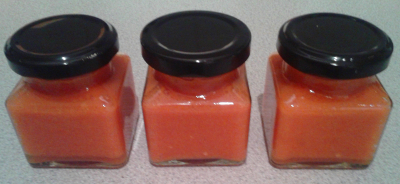 I got three small jars full like so, and a part filled larger jar (ran out of pretty jars !)

Chilli-head

Admin and Boss man




Posts

: 2377


Join date

: 2010-02-23


Location

: Bedfordshire




Similar topics
---
Permissions in this forum:
You
cannot
reply to topics in this forum