Who is online?
In total there are
2
users online :: 0 Registered, 0 Hidden and 2 Guests
None
Most users ever online was
62
on 10th April 2015, 8:24 am
Latest topics
»
What are you harvesting today?
by
FloBear
Yesterday at 9:24 pm
»
Trying to avoid wilting in the July garden
by
Chilli-head
Yesterday at 10:03 am
»
Weekend at the Kettlewell hostel
by
Chilli-head
13th July 2018, 4:56 pm
»
No-dig gardening & weed control
by
freebird
10th July 2018, 7:40 pm
»
Pest Controls...
by
Chilli-head
9th July 2018, 2:09 pm
»
Summer has arrived in the garden in June
by
Dandelion
26th June 2018, 9:26 pm
»
whats on the menu
by
Chilli-head
25th June 2018, 9:38 pm
»
Proud for once ....
by
freebird
18th June 2018, 8:22 am
»
An excellent walk - 3 days in Snowdonia
by
FloBear
8th June 2018, 6:23 pm
»
The magazine rack
by
Chilli-head
1st June 2018, 4:44 pm
»
Hoping there May be a bit less rain on the garden !
by
Chilli-head
31st May 2018, 8:40 pm
»
Housekeeping
by
Dandelion
31st May 2018, 4:42 pm
»
Breadmaker recipes
by
FloBear
8th May 2018, 9:16 am
»
Hand Weeding Tool
by
FloBear
2nd May 2018, 5:03 pm
»
Gardening between the April showers
by
FloBear
30th April 2018, 8:52 am
»
What have I done in the workshop today?
by
Chilli-head
28th April 2018, 6:51 pm
»
Knitting in the round
by
FloBear
12th April 2018, 11:51 am
»
Anyone braving the garden in March ?
by
Chilli-head
1st April 2018, 10:21 pm
»
Seed swap anyone?
by
FloBear
15th March 2018, 3:56 pm
»
Waste collection consultation
by
Ploshkin
4th March 2018, 9:20 am
Statistics
We have
238
registered users
The newest registered user is
Pat B.
Our users have posted a total of
45672
messages in
2358
subjects
Donate to our Charity
The Homemade life supports Kiva - microloans for people in developing countries working to change their lives. These loans are repaid to our KIVA account, so your donation is used many times to help different people - literally the gift that keeps on giving..

A project that is coming to fruition at last, and serving several purposes. We had a driveway and patio laid a few years ago, and had nothing but problems since. Won't bore you with the details, but the latest issue was that the ugly, badly made concrete patio edge was starting to fall away, causing blocks to subside. In the meantime, I had been trying to grow things in front of the concrete to hide it, but it became infested with bindweed which rooted into the blocks. So about 18 months ago, dug the plants out and have been treating the bindweed.
Back in July, the man's friend The Driveway Doctor came and fixed our patio. This is what we had before he mended it.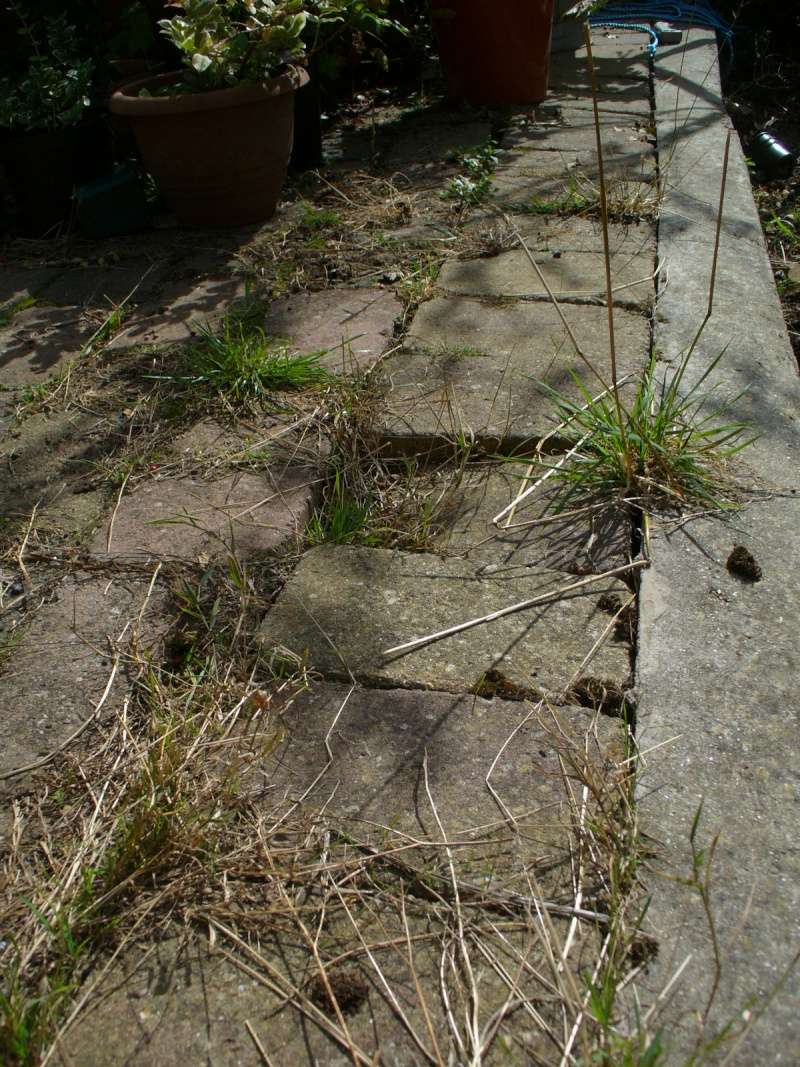 And this is what I have done over the last couple of weekends. I call it a loggery (sort of rockery, but with logs).
The bulk of soil and logs will help support the new patio edging. The logs used were from next door's massive bay tree. Unfortunately we found they ruined the chain saw blade and were unable to cut them, and they've been lurking around the garden for a couple of years now. And now, finally, I have somewhere to grow those plants that like dappled shade such as primroses, anemones, hellebores, cyclamen, violets etc. Planting not finished yet as the left side is hotter and drier in summer, so I need to find things that will tolerate that.

freebird




Posts

: 1663


Join date

: 2011-10-19


Age

: 61


Location

: South East England



Look forward to seeing some pictures of that when it matures. I think the primrose family is one of my favourites and particularly suited to our less than sunny conditions here. The plants you list are the very ones that I am getting going in my riverside plot ( extended this year). Something else that might go in your loggery are some of the small varieties of hardy geranium, I've got a couple that are really pretty. I also have a low growing polemonium with blue flowers but can't remember what it is called

Ploshkin




Posts

: 1236


Join date

: 2013-07-18


Location

: Mid Wales



Is the hotter, drier bit near to the the kitchen door ? I am thinking of herbs.

I presume that the chainsaw-defeating bay will take a long time to decay, but as it does it will provide a home for all sorts of mini wildlife.

Chilli-head

Admin and Boss man




Posts

: 2559


Join date

: 2010-02-23


Location

: Bedfordshire



I have, since the photo was taken, put in some low growing hardy geraniums, Ploshkin. Great minds and all that.....

And funny you should mention herbs CH. About 5 feet even further to the left is a very hot, dry bed against the garage wall. So the herbs are going in there.

freebird




Posts

: 1663


Join date

: 2011-10-19


Age

: 61


Location

: South East England



That's such an improvement already, Freebird. And something lovely to look forward to come Spring. Are there any bulbs that may be suitable there too?

FloBear




Posts

: 568


Join date

: 2015-02-10


Location

: East Dorset



Yes indeed - already planted with crocuses, snowdrops, chinodoxa, anemone blanda and snakes head fritillary.

freebird




Posts

: 1663


Join date

: 2011-10-19


Age

: 61


Location

: South East England



Oooh, love them all. Snakeshead fritillary a special favourite.

FloBear




Posts

: 568


Join date

: 2015-02-10


Location

: East Dorset



A year on, how is your loggery working out Freebird ?  I'm interested in the context of my Hugelkultur experiment.  Any sign of benefit or detriment from the (presumably decaying a little) wood ?

Chilli-head

Admin and Boss man




Posts

: 2559


Join date

: 2010-02-23


Location

: Bedfordshire



Oh thanks for asking, CH. I'm really really pleased with it. Tried a few times to photograph it, but never looks like anything in the pictures. It runs from shady to sunny, so the planting has to vary accordingly. More hellebores up the shady end, primroses in the middle and some sprawling hardy geraniums at the sunny end. Lots and lots of bulbs, so it is prettiest in spring.

The bark has fallen away from the bay logs, but as I've bark mulched it all, it just matches in. The logs are splitting, but not showing any sign of quick deterioration. The main downside is that slugs find the underside of the log retainers conducive to a comfortable existence. The other downside is that the dog thinks it is a convenient 'stepping stone', up ton the patio.

Don't think I mentioned that in the spring I made a mini loggery the other side of the path. That is very sunny and can be dryish, so has Mediterranean herbs and a cistus.

Will look out the pics I took and see if any are worth posting.

freebird




Posts

: 1663


Join date

: 2011-10-19


Age

: 61


Location

: South East England



Ah, I didn't really answer your question, did I. I would say that at this early stage, the wood doesn't appear to be decaying. That was partly why I used it. We found it impossible to cut with chainsaw, and those bits we did manage were hopeless for burning unless bone dry. So we were left with some very large pieces of bay tree taking up space in the garden. I reckoned, being so hard to cut and to burn, it wasn't going to rot too quickly.

freebird




Posts

: 1663


Join date

: 2011-10-19


Age

: 61


Location

: South East England




---
Permissions in this forum:
You
cannot
reply to topics in this forum