Who is online?
In total there are
3
users online :: 0 Registered, 0 Hidden and 3 Guests
None
Most users ever online was
62
on 10th April 2015, 8:24 am
Latest topics
»
Harvest season in the September garden
by
Dandelion
Yesterday at 10:10 pm
»
Curry powder
by
Chilli-head
19th September 2018, 6:41 pm
»
Tomato Relish
by
Ploshkin
17th September 2018, 9:05 pm
»
What are you preserving today?
by
Ploshkin
16th September 2018, 11:08 am
»
Reflections on the season - 2018
by
Dandelion
14th September 2018, 7:04 pm
»
A good year for the forager ?
by
Ploshkin
12th September 2018, 9:03 pm
»
First go at proper wine
by
Chilli-head
10th September 2018, 10:07 am
»
What are you harvesting today?
by
Chilli-head
8th September 2018, 9:10 pm
»
Pizza oven !
by
freebird
3rd September 2018, 4:37 pm
»
Plummeting potato sales
by
Ploshkin
19th August 2018, 11:31 am
»
The neglected August garden
by
freebird
19th August 2018, 10:27 am
»
New Things In Your Pond Today...
by
FloBear
15th August 2018, 4:57 pm
»
The magazine rack
by
Chilli-head
12th August 2018, 7:55 pm
»
What arts and craft things have you been making lately?
by
FloBear
30th July 2018, 1:53 pm
»
Trying to avoid wilting in the July garden
by
Dandelion
29th July 2018, 4:03 pm
»
whats on the menu
by
FloBear
27th July 2018, 12:32 pm
»
Weekend at the Kettlewell hostel
by
Chilli-head
13th July 2018, 4:56 pm
»
No-dig gardening & weed control
by
freebird
10th July 2018, 7:40 pm
»
Pest Controls...
by
Chilli-head
9th July 2018, 2:09 pm
»
Summer has arrived in the garden in June
by
Dandelion
26th June 2018, 9:26 pm
Statistics
We have
241
registered users
The newest registered user is
bobfoz
Our users have posted a total of
45862
messages in
2366
subjects
Donate to our Charity
The Homemade life supports Kiva - microloans for people in developing countries working to change their lives. These loans are repaid to our KIVA account, so your donation is used many times to help different people - literally the gift that keeps on giving..

I've always loved quilts and have had a long felt want to do some quilting but apart from a wall hanging that I did 30 years ago (that didn't strictly use quilting techniques) I've never ventured there. Anyway, through the post arrived a bundle of new quilting cottons that my mum had got for £4 in a charity shop. The fabrics were not particularly to my taste but I set myself the challenge of actually making something rather that just consign them to the cupboard. So, here is my first ever actual quilt. It came out 42" x 62" and I'm quite pleased with it for a first attempt.
I kept the quilting simple as it's not easy wrestling a thick quilt under a domestic sewing machine. I don't like dense quilting anyway as it makes the thing stiff. This is the back - the shadows from the lighting have made it look a lot more wrinkly than it is but it's not as good as I would have liked. But - it's a finished article!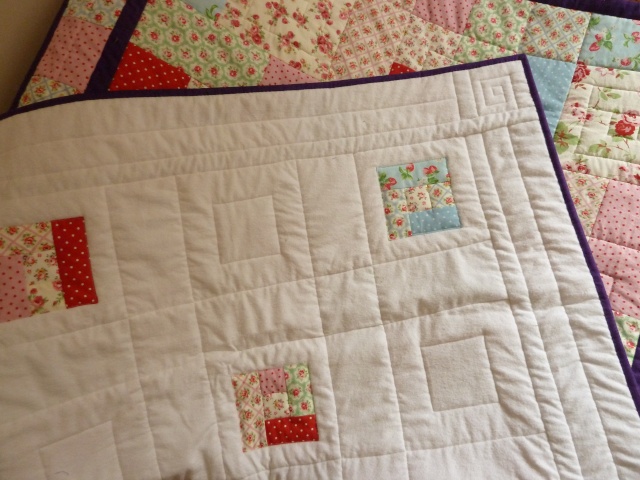 I'm going to donate it to Project Linus which is a charity that gives quilts to children in hospitals and hospices

Ploshkin




Posts

: 1273


Join date

: 2013-07-18


Location

: Mid Wales



That is a lovely job, Ploshkin. I'm sure your mum will be most impressed. I am at the thought of wrestling it under a domestic sewing machine!
And a lovely idea to donate to the hospice.

FloBear




Posts

: 598


Join date

: 2015-02-10


Location

: East Dorset



I like it too. I like the random look of the blocks of colour. Very kind of you to give it to a worthy cause too. Do you think you'll be making more patchwork, now that you've made a start ? Got the bug ?

Chilli-head

Admin and Boss man




Posts

: 2600


Join date

: 2010-02-23


Location

: Bedfordshire



I have got the bug, I just needed to break my duck. I don't really have much call for quilt making - no grandchildren, not much wall space for hanging stuff (& I don't like cluttered walls anyway), warm house so no need etc. but I do have a couple of things in mind. Actually I have, resident in the cupboard for the last 6 or so years, a pieced quilt top that I've always been too cowardly to try and quilt. I like the maths and precision of the piecing process. I may get it out & see what I can do with it.
As I said, the fabrics that I had for this aren't to my taste - too pastel & fussy but it was good to have the fabric choice made for me - one less thing to prevaricate about and I had to work round what I had. I chose to use the purple for the borders and I like it despite the woman in the shop telling me that it wouldn't be right and that I should use the green that is in some of the fabrics.

Ploshkin




Posts

: 1273


Join date

: 2013-07-18


Location

: Mid Wales




................................................................................................................................
The richer we have become materially, the poorer we have become morally and spiritually. We have learned to fly in the air like birds and swim in the sea like fish, but we have not learned the simple art of living together as brothers and sisters.

-Martin Luther King, Jr.

Dandelion

Admin




Posts

: 4717


Join date

: 2010-01-17


Age

: 61


Location

: Ledbury, Herefordshire





Similar topics
---
Permissions in this forum:
You
cannot
reply to topics in this forum