Who is online?
In total there is
1
user online :: 0 Registered, 0 Hidden and 1 Guest
None
Most users ever online was
62
on 10th April 2015, 8:24 am
Latest topics
»
The Christmas workshop
by
FloBear
10th December 2019, 5:12 pm
»
December in the garden ?
by
freebird
6th December 2019, 11:17 am
»
The November garden - time to tidy, but not too much !
by
Dandelion
28th November 2019, 8:31 pm
»
My new garden.
by
Ploshkin
19th November 2019, 6:40 pm
»
What arts and craft things have you been making lately?
by
FloBear
19th November 2019, 5:55 pm
»
What are you harvesting today?
by
Dandelion
7th November 2019, 5:55 pm
»
The October garden, a pause for reflection
by
Dandelion
22nd October 2019, 8:39 pm
»
Allotments could be key to sustainable farming
by
Chilli-head
20th October 2019, 2:52 pm
»
Shakshouka
by
FloBear
3rd October 2019, 10:28 pm
»
Shades of autumn in the September garden
by
FloBear
3rd October 2019, 10:26 pm
»
Welcome guest
by
Ploshkin
8th September 2019, 10:41 am
»
Practical Action
by
Chilli-head
6th September 2019, 1:23 pm
»
Overheated in the August garden
by
Dandelion
3rd September 2019, 9:34 pm
»
Adverts
by
FloBear
29th August 2019, 8:53 am
»
High summer in the July garden
by
FloBear
23rd July 2019, 12:13 pm
»
Insect hotel
by
FloBear
12th July 2019, 1:00 pm
»
Peregrines
by
FloBear
4th July 2019, 10:18 pm
»
Tomato trusses
by
freebird
29th June 2019, 10:31 am
»
Bursting out in the June garden
by
FloBear
23rd June 2019, 7:11 pm
»
New "New Horizons"
by
Dandelion
21st June 2019, 4:01 pm
Statistics
We have
245
registered users
The newest registered user is
skweller
Our users have posted a total of
46078
messages in
2352
subjects
Donate to our chosen Charity

Homemade Life forum supports
Kiva micro-loans
: supporting people looking to create a better future for themselves, their families and their communities. You can donate
here

This is the sttol that was intended to live in the shed at the allotment for rest and contemplation breaks. The wood is re-growth from ash that was coppiced a few years ago to allow more light into the oaks, in view of the likely effect of ash dieback.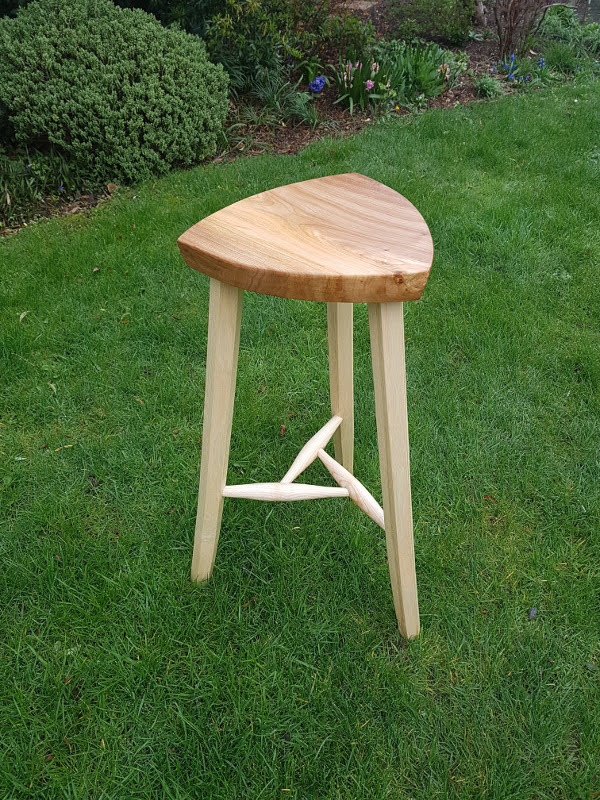 The wood made most of the design choices ! I went to rive it into 4 legs, but the split ran out on one, so electing to be a 3 legged stool. I started to prepare the good 3 for the lathe, got as far as knocking the corners off to make a hexagonal cross section, then realised that the bottom of the trunk had a curve that was going to be too much to allow them to be turned without ending up too thin. I decided to go with the flow and have hexagonal legs, and use the curve to give an outward flare at the bottom of the legs.
The remaining bits were enough for the stretchers, but of limited length and with awkwardly placed knots - I worked around them placing the joints between the stretcher pieces to allow me to drill out the loose knots to make the mortices on two of them.
The elm seat was a lump which has been lurking for a while in the garage - it was a bit narrow (Dutch Elm disease means it's about as big as are to be had at Wimpole) hence the curve on the edges of the seat to make use of the curve on the outer edges of the board. The shape is a Reuleaux triangle - each edge is a circular arc struck around the opposite corner, and makes good use of the narrow board.
Mrs C-H is now redesigning the kitchen to find a space for it ...

Chilli-head

Admin and Boss man




Posts

: 2852


Join date

: 2010-02-23


Location

: Bedfordshire



It's beautiful - I can see why Mrs CH is making room for it

................................................................................................................................
The richer we have become materially, the poorer we have become morally and spiritually. We have learned to fly in the air like birds and swim in the sea like fish, but we have not learned the simple art of living together as brothers and sisters.

-Martin Luther King, Jr.

Dandelion

Admin




Posts

: 4938


Join date

: 2010-01-17


Age

: 63


Location

: Ledbury, Herefordshire



That is gorgeous, CH. I am in awe


FloBear




Posts

: 726


Join date

: 2015-02-10


Location

: East Dorset



Oh, oh, oh ..... WOW! That is lovely CH. Sometimes I think the best designs are borne of necessity.

freebird




Posts

: 1866


Join date

: 2011-10-19


Age

: 63


Location

: Powys



That is so unusual CH and beautiful too - all the more so because of the way you have used the natural quirks of the wood. It most definitely shouldn't be banished to the allotment shed.

Ploshkin




Posts

: 1445


Join date

: 2013-07-18


Location

: Mid Wales




---
Permissions in this forum:
You
cannot
reply to topics in this forum