Who is online?
In total there are
2
users online :: 0 Registered, 0 Hidden and 2 Guests
None
Most users ever online was
62
on 10th April 2015, 8:24 am
Latest topics
»
My new garden.
by
freebird
9th November 2019, 10:54 am
»
What are you harvesting today?
by
Dandelion
7th November 2019, 5:55 pm
»
The November garden - time to tidy, but not too much !
by
Chilli-head
4th November 2019, 12:55 pm
»
The October garden, a pause for reflection
by
Dandelion
22nd October 2019, 8:39 pm
»
Allotments could be key to sustainable farming
by
Chilli-head
20th October 2019, 2:52 pm
»
Shakshouka
by
FloBear
3rd October 2019, 10:28 pm
»
Shades of autumn in the September garden
by
FloBear
3rd October 2019, 10:26 pm
»
Welcome guest
by
Ploshkin
8th September 2019, 10:41 am
»
Practical Action
by
Chilli-head
6th September 2019, 1:23 pm
»
Overheated in the August garden
by
Dandelion
3rd September 2019, 9:34 pm
»
Adverts
by
FloBear
29th August 2019, 8:53 am
»
High summer in the July garden
by
FloBear
23rd July 2019, 12:13 pm
»
Insect hotel
by
FloBear
12th July 2019, 1:00 pm
»
Peregrines
by
FloBear
4th July 2019, 10:18 pm
»
Tomato trusses
by
freebird
29th June 2019, 10:31 am
»
Bursting out in the June garden
by
FloBear
23rd June 2019, 7:11 pm
»
New "New Horizons"
by
Dandelion
21st June 2019, 4:01 pm
»
More mead ...
by
Chilli-head
10th June 2019, 4:26 pm
»
Beautiful moth
by
FloBear
8th June 2019, 6:00 pm
»
The Gardening "method or madness ?" thread
by
Dandelion
4th June 2019, 7:38 pm
Statistics
We have
245
registered users
The newest registered user is
skweller
Our users have posted a total of
46028
messages in
2350
subjects
Donate to our chosen Charity

Homemade Life forum supports
Kiva micro-loans
: supporting people looking to create a better future for themselves, their families and their communities. You can donate
here

I have been avidly following the progress of the peregrines nesting on Salisbury Cathedral. Some of the story has been quite dramatic as the resident female was ousted after a big fight and a new pair took over. The second egg hatched on my birthday - 16th May - and I saw the fourth egg hatching a couple of days later starting with a little leg poking out through the shell.
I've taken some still clips at various stages and have been
boring
entertaining friends on my gardening forum with them.
Here's Dad baby-sitting his week-old chicks
And this is two days ago when they all came back to the nest hoping for a meal - I'm guessing they could see a parent circling, or maybe they were admiring the height of the spire! Five weeks old now, should fledge next week after which they have to learn to hunt. There are three females and one male.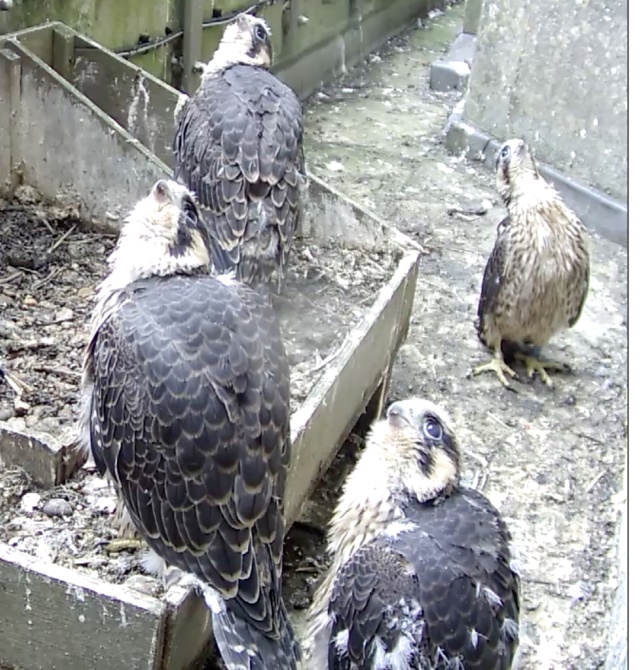 FloBear




Posts

: 719


Join date

: 2015-02-10


Location

: East Dorset



Those are brilliant - is 4 normal for peregrines?
You said they came back to the nest but haven't fledged yet, do they go for a walkabout on the roof?

Ploshkin




Posts

: 1439


Join date

: 2013-07-18


Location

: Mid Wales



Amazing photos. Presumably the falcons will be good news for the cathedral in keeping pigeons at bay.

................................................................................................................................
The richer we have become materially, the poorer we have become morally and spiritually. We have learned to fly in the air like birds and swim in the sea like fish, but we have not learned the simple art of living together as brothers and sisters.

-Martin Luther King, Jr.

Dandelion

Admin




Posts

: 4934


Join date

: 2010-01-17


Age

: 63


Location

: Ledbury, Herefordshire



Yes, Ploshkin, they go off walking round the balcony where their nest is, it's at the bottom of the spire. There are obviously several webcams so the view sometimes changes. I think four is not unusual for peregrines but it may be more uncommon for them all to get to fledging age. Two years ago only one chick hatched successfully and the RSPB were able to introduce a chick from a Shropshire nest where the parents had been poisoned.
Of course if four succeeded every year we'd soon be over-run with peregrines!

Dandelion, I should think they are a welcome predator of pigeons and I've seen many grey-feathered meals brought in. I have also identified a Rook or Crow, a Great Spotted Woodpecker and, sadly due to their increasing rarity, a Swift.

FloBear




Posts

: 719


Join date

: 2015-02-10


Location

: East Dorset



Mr Bear and I went to Salisbury today to try and see the peregrines now the chicks have fledged.

The RSPB staff and volunteers who were on duty were knowledgeable and helpful and had a couple of scopes trained on the birds that were sitting about. This was very helpful as the youngsters were well camouflaged against the stone. We saw some flying activity in the morning but mostly there were just one or two to be seen sitting quietly.They've only been flying a few days so are not that competent yet - landing being the hardest thing for them, we were told. Food is still being brought in by the parents and they have not attempted to teach hunting skills yet.

I noticed swifts flying and screaming around the cathedral too and mentioned to one of the RSPB people that I had seen one brought in as food. He reckoned it must have been ailing because the way swifts fly makes it very difficult for a peregrine to catch. It seems that the black headed gulls have taken the biggest hit - even more than pigeons.



FloBear




Posts

: 719


Join date

: 2015-02-10


Location

: East Dorset




---
Permissions in this forum:
You
cannot
reply to topics in this forum