Who is online?
In total there are
2
users online :: 0 Registered, 0 Hidden and 2 Guests
None
Most users ever online was
112
on 8th October 2020, 7:09 am
Latest topics
»
The October garden
by
freebird
Today at 9:28 am
»
Tomato Relish
by
freebird
21st October 2020, 9:57 pm
»
What are you harvesting today?
by
freebird
20th October 2020, 9:05 am
»
Ross Cobbs
by
FloBear
19th October 2020, 7:19 pm
»
What arts and craft things have you been making lately?
by
Dandelion
7th October 2020, 9:50 pm
»
Red Mite
by
Dandelion
19th September 2020, 10:33 pm
»
The September Garden
by
Dandelion
14th September 2020, 9:59 pm
»
Bit of a wobble
by
Dandelion
17th August 2020, 9:48 pm
»
Ex-commercial hens
by
Dandelion
17th August 2020, 9:45 pm
»
Welcome guest
by
FloBear
12th August 2020, 9:44 pm
»
Pesky blackbirds
by
Chilli-head
10th August 2020, 11:16 pm
»
Cambridge replacement folk service
by
Chilli-head
4th August 2020, 1:09 pm
»
What have I done in the workshop today?
by
freebird
20th July 2020, 8:14 pm
»
July - welcome to the Autumn garden !
by
Dandelion
16th July 2020, 6:35 pm
»
What can I do with ...?
by
Dandelion
5th July 2020, 10:42 pm
»
New Kiva loan
by
Dandelion
3rd July 2020, 12:37 pm
»
Allotment
by
freebird
2nd July 2020, 8:43 pm
»
New arrivals
by
FloBear
29th June 2020, 7:38 pm
»
Likes/dislikes
by
Chilli-head
24th June 2020, 11:18 am
»
The June garden
by
Chilli-head
23rd June 2020, 10:50 am
Statistics
We have
250
registered users
The newest registered user is
Jeleleli
Our users have posted a total of
46991
messages in
2382
subjects
Donate to our chosen Charity

Homemade Life forum supports
Kiva micro-loans
: supporting people looking to create a better future for themselves, their families and their communities. You can donate
here
It has occurred to me that one type of chilli product I've not yet made for myself is the chipotle - smoked Jalapeno chillies. I want to put that right this year by doing some smoking.

This seems like a great use for the waste products of my woodworking/carving - I have supplies of hardwood chips, sawdust and shavings - mostly oak and beech (I think traditionally is should be pecan wood, but I'l have to improvise), a kettle barbequeue, a "barbequeue smoker" from Lakeland (a stainless steel box with holes in it which you fill with woodchips and sit in the coals), and whatever else I can contrive.

Has anyone here tried it ? Any tips ? My chilli plants are only about 1" high at the moment, so I have plenty of time to plan ahead !

Chilli-head

Admin and Boss man




Posts

: 3053


Join date

: 2010-02-23


Location

: Bedfordshire



Ok, I've tried it.  Had the day off work for unrelated reasons today, and it was a lovely autumnal day, so I thought I'd give it a go.  There's going to have to be some photos here ...
First step: kettle barbecue fired up with a small charcoal fire, just at one side of the grate.  Once it is going, a handful of oak chips thrown on to raise some smoke.  I started with dry ones till the fire was well established.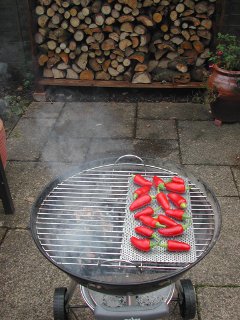 Grill on, and a perforated stainless steel sheet to stop the chillies falling through the bars, but to let the smoke percolate.  A few red Jalapenos go on, at the opposite side to the fire to avoid burning them, then the lid.  Bottom air holes were open throughout, and the top ones about 1/4 to 1/2 open.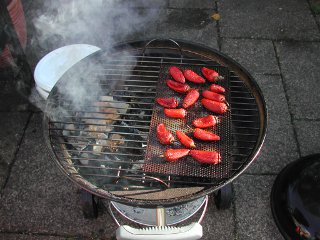 One hour later,  after topping up with oak chips and small offcuts, which have been soaked in water for an hour to make them smolder, rather than take flame.
I stopped smoking after four hours, for fear they might start to burn.  They have a leathery skin, and a sort of stickiness to them.  But I wish I could post the smell !  Not like a bought chipotle quite, because I used oak (not many pecan trees round here !),  but imagine bonfire toffee.  A rich, smokey, caramelised smell.  I shall dry them out completely by stringing then over a radiator before storing.

Chilli-head

Admin and Boss man




Posts

: 3053


Join date

: 2010-02-23


Location

: Bedfordshire



---
Permissions in this forum:
You
cannot
reply to topics in this forum