Who is online?
In total there are
3
users online :: 0 Registered, 0 Hidden and 3 Guests
None
Most users ever online was
112
on 8th October 2020, 7:09 am
Latest topics
»
The October garden
by
freebird
Today at 9:28 am
»
Tomato Relish
by
freebird
21st October 2020, 9:57 pm
»
What are you harvesting today?
by
freebird
20th October 2020, 9:05 am
»
Ross Cobbs
by
FloBear
19th October 2020, 7:19 pm
»
What arts and craft things have you been making lately?
by
Dandelion
7th October 2020, 9:50 pm
»
Red Mite
by
Dandelion
19th September 2020, 10:33 pm
»
The September Garden
by
Dandelion
14th September 2020, 9:59 pm
»
Bit of a wobble
by
Dandelion
17th August 2020, 9:48 pm
»
Ex-commercial hens
by
Dandelion
17th August 2020, 9:45 pm
»
Welcome guest
by
FloBear
12th August 2020, 9:44 pm
»
Pesky blackbirds
by
Chilli-head
10th August 2020, 11:16 pm
»
Cambridge replacement folk service
by
Chilli-head
4th August 2020, 1:09 pm
»
What have I done in the workshop today?
by
freebird
20th July 2020, 8:14 pm
»
July - welcome to the Autumn garden !
by
Dandelion
16th July 2020, 6:35 pm
»
What can I do with ...?
by
Dandelion
5th July 2020, 10:42 pm
»
New Kiva loan
by
Dandelion
3rd July 2020, 12:37 pm
»
Allotment
by
freebird
2nd July 2020, 8:43 pm
»
New arrivals
by
FloBear
29th June 2020, 7:38 pm
»
Likes/dislikes
by
Chilli-head
24th June 2020, 11:18 am
»
The June garden
by
Chilli-head
23rd June 2020, 10:50 am
Statistics
We have
250
registered users
The newest registered user is
Jeleleli
Our users have posted a total of
46991
messages in
2382
subjects
Donate to our chosen Charity

Homemade Life forum supports
Kiva micro-loans
: supporting people looking to create a better future for themselves, their families and their communities. You can donate
here
I was just going to post a pic of a little thing I made this morning, but didn't really know what thread to put it on. It's entirely made from things that would normally be thrown away/recycled, so I thought maybe others use 'bits and bobs' too, for all sorts of things. This is what I did with some of mine...
It's a 'destroy toy' for our parrot, Bella. Her greatest pleasure in life is to rip things apart, and it can be hard keeping up with her insatiable appetite for shredding. It's made from a takeout coffee cup, some Magnum sticks, pieces of cardboard tube, a fir cone and some cotton embroidery thread. All degradable stuff, so once she's finished with it, it will all go on the compost heap.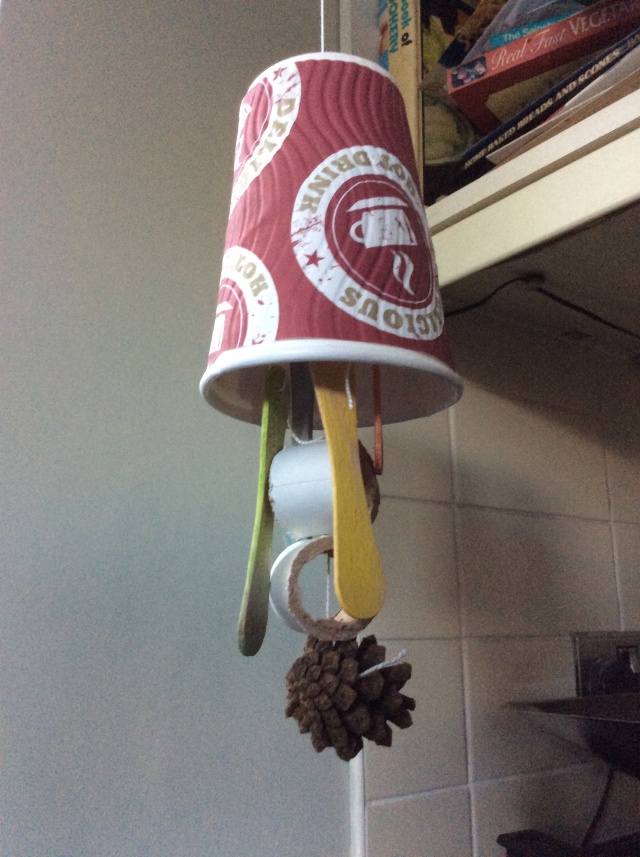 She's already shredded the outside of the cup and destroyed two of the Magnum sticks.

freebird




Posts

: 2078


Join date

: 2011-10-19


Age

: 64


Location

: Powys



Lovely. I'm glad you explained what it was Freebird, or I would have been puzzling all day.
It reminded me of when C-H Jnr was a baby. In the morning he'd sit in my lap on the bed whilst I read the morning post, happily shredding any junk mail passed his way. The colourful CPC brochures were a favourite !
One question though - does your parrot know what is a "destroy toy", and what is really a precious thing that, through parrot eyes, just looks a bit like one ?

Chilli-head

Admin and Boss man




Posts

: 3053


Join date

: 2010-02-23


Location

: Bedfordshire



Unfortunately, no she doesn't know the difference, as I found to my cost whilst decorating. Just finished a mammoth polyfilla job (used most of a trade-size pack), just prior to beginning painting. Bella managed to climb up onto the picture rail, and joyfully started shredding the wood. She wouldn't be distracted either, not even by her favourite food.

It ended up being another polyfilla job.

We have to be very careful where we let her out the cage - she can't fly (think previous owner/s maybe never let her out, so her muscles are weak), so stays on the cage. We just have to make sure she can't reach anything! Except her toys, of course.

freebird




Posts

: 2078


Join date

: 2011-10-19


Age

: 64


Location

: Powys



Ingenious! We've never had a parrot, and the hens amuse themselves, but I can remember threading all sorts of things onto a length of elastic when the children were small, and stretching it across the front of my ancient treadle sewing machine base so that the baby could reach and play with them from the safety of their baby seat. I also threaded cotton reels and bells onto elastic and stretched it across the pram - my youngest used to play with this as a toy on its own later on, the elastic, bells and cottons reels scrumpled into a ball. It was called (for some reason) the Merrily!!

................................................................................................................................
The richer we have become materially, the poorer we have become morally and spiritually. We have learned to fly in the air like birds and swim in the sea like fish, but we have not learned the simple art of living together as brothers and sisters.

-Martin Luther King, Jr.

Dandelion

Admin




Posts

: 5156


Join date

: 2010-01-17


Age

: 64


Location

: Ledbury, Herefordshire



Nice bit of kit, Freebird! I'm a user of Bits and Bobs too.
I have a few old CDs hanging in the hen run to amuse the girls though the initial interest has now waned.

I have parrots but neither is too destructive. Esme, my previous bird, liked to shimmy up the curtains and nibble bits out of the wall above the curtain rail. However, she was a very sociable parrot and would obligingly step on to the Parrot Extraction Device (aka stick) when proffered then spend the rest of the evening sitting on my head. Unless she wanted to do some more wall-work in which case she'd flutter to the floor and scuttle across to the corner of the room and re-model the bit above the skirting board.

FloBear




Posts

: 798


Join date

: 2015-02-10


Location

: East Dorset



I'm always diving down the recycling bag for something to use.  When we had a litter of puppies last year they had all manner of bits to play with, favourites were a knotted up bit of old rope, an old towel and squashed, plastic milk bottles.  All of the small animals have ex kitchen equipment to eat from - saucepans, frying pans and baking tins.  I use a lot of bits and bobs for bees too especially take away containers and correx signs. (Mr P works on the highways and removes illegally placed signs, election time is always good).  Toilet roll inners get stuffed with bits of egg box that have come to the end of their life and used to start the smoker.

Ploshkin




Posts

: 1608


Join date

: 2013-07-18


Location

: Mid Wales



Ah yes, plastic milk bottles. We used those as puppy toys too - put some treats inside and it would occupy Lola for hours, chewing at it. She got wise fairly quickly though, and worked out that if she threw the bottle about, the treats would tumble out.

freebird




Posts

: 2078


Join date

: 2011-10-19


Age

: 64


Location

: Powys



---
Permissions in this forum:
You
cannot
reply to topics in this forum