Who is online?
In total there is
1
user online :: 0 Registered, 0 Hidden and 1 Guest
None
Most users ever online was
112
on 8th October 2020, 7:09 am
Latest topics
»
whats on the menu
by
Dandelion
25th November 2020, 9:36 pm
»
What are you harvesting today?
by
freebird
19th November 2020, 8:38 pm
»
Frosts come to the garden in November
by
Dandelion
10th November 2020, 5:07 pm
»
Paper bricks
by
freebird
7th November 2020, 10:44 pm
»
Astypalea goes green
by
Chilli-head
6th November 2020, 8:39 am
»
The October garden
by
Ploshkin
31st October 2020, 10:25 pm
»
Tomato Relish
by
freebird
21st October 2020, 9:57 pm
»
Ross Cobbs
by
FloBear
19th October 2020, 7:19 pm
»
What arts and craft things have you been making lately?
by
Dandelion
7th October 2020, 9:50 pm
»
Red Mite
by
Dandelion
19th September 2020, 10:33 pm
»
The September Garden
by
Dandelion
14th September 2020, 9:59 pm
»
Bit of a wobble
by
Dandelion
17th August 2020, 9:48 pm
»
Ex-commercial hens
by
Dandelion
17th August 2020, 9:45 pm
»
Welcome guest
by
FloBear
12th August 2020, 9:44 pm
»
Pesky blackbirds
by
Chilli-head
10th August 2020, 11:16 pm
»
Cambridge replacement folk service
by
Chilli-head
4th August 2020, 1:09 pm
»
What have I done in the workshop today?
by
freebird
20th July 2020, 8:14 pm
»
July - welcome to the Autumn garden !
by
Dandelion
16th July 2020, 6:35 pm
»
What can I do with ...?
by
Dandelion
5th July 2020, 10:42 pm
»
New Kiva loan
by
Dandelion
3rd July 2020, 12:37 pm
Statistics
We have
250
registered users
The newest registered user is
Jeleleli
Our users have posted a total of
47052
messages in
2385
subjects
Donate to our chosen Charity

Homemade Life forum supports
Kiva micro-loans
: supporting people looking to create a better future for themselves, their families and their communities. You can donate
here
Page 2 of 2 •
1, 2
budburst12 wrote: You'll very often stumble across video clips showing you how to do it.

Now that is an awesome idea
Would anybody be interested in sourcing knitting stitch video links and posting up a new thread?
Not got time to do so at the moment Badger, but will agree that there are loads of videos on You Tube that have saved me quite a few times, especially when I was teaching myself to knit socks!

Mrs C
Good idea Badger! I'll give it a go getting this started...
I'm knitting a blanket for my little lady which will be made out of lots of little squares all sewn together. Basically it's a way of using up old yarn and it's a good way to try out new knitting styles! I'd really like every square to be different, but am starting to run out of ideas. Does anyone know any nice patterns they could share?
So far I've done a couple of bobble styles, a simple lace (4 holes arranged in a diamond shape) and I've played around with alternating stocking stitch and garter stitch to make shapes (most of the turquoise ones in the photo).
Any other ideas for knitting styles I could use?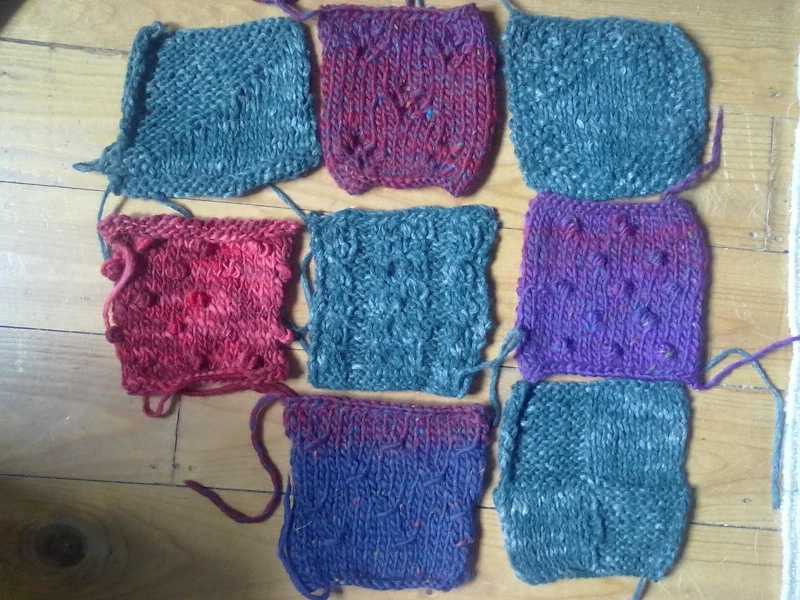 basket weave?
not sure if feather & fan would work on such a project...
let me see if I can find piccies of what I am talking about:
basketweave
Feather and Fan
relatively recently, I made a rattle for a baby in the shape of a cube,
with all the sides of the cubes with a different yarn and/or different
texture and one of the sides was like the side of a cube with six "dots"
on it.

Lakshmi




Posts

: 189


Join date

: 2010-07-01


Location

: Devon, UK



I also like to knit hearts or diamonds or similar easy little patterns into a plain square.

Lakshmi




Posts

: 189


Join date

: 2010-07-01


Location

: Devon, UK



Thanks Lakshmi, they both look great! I'll add those to the collection..
Love the idea of making a knitted cube rattle. hmm, if all else fails and I get fed up of blanket knitting, I could always do that instead!
and there are a few things you can buy that are cheap as chips that will make sure the rattle is safe for your little lady.

Lakshmi




Posts

: 189


Join date

: 2010-07-01


Location

: Devon, UK



oh yeah, what kind of things?
what they call "stockinette" at the foam shop. resembles vaguely the things they give you in hospitals to put around an arm or a leg.

And also toy stuffing (BIG bag for GBP 1.50)

and the plastic casing inside "Kinder surprise eggs". the thing that protects the little toy thingummy.

so you buy a Lindt golden rabbit and take the bell. clean, put it in the cleaned plastic casing, then stuff in the middle of some toy stuffing (make sure it is the one resistant to tears - the one that works best I thought was the left over from sofa stuffing) and then sew the "stockinette" around the lot a few times. and put inside the part sewn cube.

finish sewing the cube. job done!

Lakshmi




Posts

: 189


Join date

: 2010-07-01


Location

: Devon, UK



Ah, lovely, thankyou!
Wouldn't have thought of pre-wrapping the stuffing - can just imagine it now - Josie delighting in pulling all the stuffing out through the gaps in the knitting!
Seems a good excuse to buy a lindt golden rabbit too - knew I should have kept that bell at easter time, but I can squeeze down another for a good cause!
Page 2 of 2 •
1, 2
---
Permissions in this forum:
You
cannot
reply to topics in this forum