Who is online?
In total there is
1
user online :: 0 Registered, 0 Hidden and 1 Guest
None
Most users ever online was
62
on 10th April 2015, 8:24 am
Latest topics
»
What are you harvesting today?
by
FloBear
Today at 11:35 am
»
Almost forgot the November garden !
by
Ploshkin
18th November 2018, 8:08 pm
»
"Reservoirs can make water shortages worse"
by
Ploshkin
15th November 2018, 9:44 pm
»
Tomato Relish
by
Ploshkin
7th November 2018, 9:29 am
»
Hydropower not sustainable either ...
by
Ploshkin
7th November 2018, 9:26 am
»
Some stuff I have made
by
FloBear
31st October 2018, 9:02 pm
»
It's now more difficult to dispose of plastic waste
by
Ploshkin
29th October 2018, 4:58 pm
»
Should I worry about - nylon strimmer line ?
by
Chilli-head
29th October 2018, 3:01 pm
»
Garlic storage pot ...
by
Dandelion
22nd October 2018, 9:06 pm
»
The October Garden - winding down or planning ahead?
by
Ploshkin
22nd October 2018, 11:28 am
»
knitting soft toys
by
Dandelion
14th October 2018, 4:20 pm
»
Beetle id please
by
Dandelion
4th October 2018, 5:43 pm
»
Important: Founder transfer ?
by
Chilli-head
1st October 2018, 2:57 pm
»
Need a login to insert an image
by
Ploshkin
1st October 2018, 2:47 pm
»
Kiva - Loans that change lives.
by
Dandelion
24th September 2018, 9:46 pm
»
Harvest season in the September garden
by
Dandelion
21st September 2018, 10:10 pm
»
Curry powder
by
Chilli-head
19th September 2018, 6:41 pm
»
What are you preserving today?
by
Ploshkin
16th September 2018, 11:08 am
»
Reflections on the season - 2018
by
Dandelion
14th September 2018, 7:04 pm
»
A good year for the forager ?
by
Ploshkin
12th September 2018, 9:03 pm
Statistics
We have
242
registered users
The newest registered user is
mumandmo
Our users have posted a total of
46011
messages in
2377
subjects

Where to put this ? I guess it is craft ..

My FIL, having been given a new swarm of bees, has hastily cleared out his hives .. and given me a pile of old comb to use the beeswax.

But how best to purify it ? So far the best result has come from wrapping it up in a bit of old cloth, putting it in an old pan witb boilong water, then squeezing it out when melted. Not for those without asbestos hands ! But without straining, it is full of detritus of pollen and dead bee etc

Any better ideas ? And suggestions of what to do with it when I've made enough furniture polish ?

Chilli-head

Admin and Boss man




Posts

: 2637


Join date

: 2010-02-23


Location

: Bedfordshire



I don't do much with wax but I try to separate the cleaner stuff from the old brood comb before I melt it. Most of the gunk you get is from pupal remains in the cells. I usually give it an initial melt with the wax directly in water. When it cools I take the disc of wax out of water & scrape off the layer of gunge (called slumgum I believe). That leaves you with a much cleaner lump of wax remelt & filter as many times as you need without too much dross to bung up the filter. The couple of times I've done wax for show I've filtered it through a double layer of tights.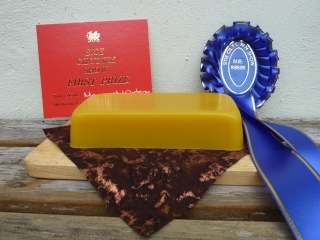 If (big if) we get some decent hot weather I use my Heath Robinson solar wax melter. I turn it to follow the sun throughout the day. The wax is in an old baking tin with holes drilled in the end & the end of a pair of tights for the wax to filter through. It runs into a pound shop foil roasting tray bent into an appropriate shape. The box is part of one of my poly beehives with a double glazing unit with a broken seal on top.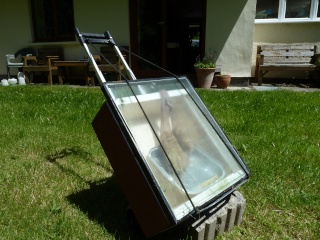 I don't find a great deal of use for wax - there's only so much you can use. We had wax blocks for sale at the weekend but only sold two - one to a fisherman and one to a woodturner. Apart from polish the only other thing I have used it for is handcream (with cocoa butter & rapeseed oil). It's good stuff but the tub I made has been going for 2 years - might need some more next year. Slumgum makes good firelighters. The major beekeeping kit suppliers have an exchange scheme so people with a large quantity of wax return it for credit.
How do you make your furniture polish CH? (I'm sure you've said before but I can't remember).

Ploshkin




Posts

: 1305


Join date

: 2013-07-18


Location

: Mid Wales



I just knew it was worth asking - I 've been waiting to use this one :
I love that solar melter.  It reminds me of the solar cooking gadgets on
this thread
. Thanks for the idea !
I had a sneaking suspicion that part of the answer was to start with only the cleanest comb.  The best wax I have came from comb that arrived full of lovely honey

 The other stuff is a bit darker, and contains a lot of organic matter that soaks up most of the wax when melted.
Still, the straining approach seems to help.  I don't have old tights to hand, but used squares of an old cotton duvet cover - I have some scraps of fine agricultural mesh that might work well if it doesn't melt.  I got about 250 grammes of wax from my saucepanful last night, I re-melted it strained it once more and it looks good enough for candles or polish.
Ah yes, furniture polish.  I did this.
Melt beeswax in a pan.  I did this directly over gas, but the more cautious might use a water bath.
Remove from the heat.  Extinguish any naked flames
, then add an equal quantity of natural turpentine, and half that amount of raw linseed oil.  Stir to mix.  I stirred it occasionally as it cooled in case it decided to separate, but I'm not sure if that is necessary or not.
Other recipies vary.  The linseed can yellow very light woods, so you might omit it.  If you have enough soot, you can make black boot polish using that instead !
In that little box that appears at the bottom of a thread with "similar topics" listed in it from this and other fora, I spotted yesterday a wood preserving tip; he used linseed oil heated up, with around 5% beeswax dissolved into it. The warm oil carries the wax into the wood and gives it a water repellant characteristic.  The poster was using it to treat his beehives.  
Edited to add: here's the thread:
http://squarefoot.forumotion.com/t707-linseed-oil-beeswax-wood-treatment
Edited again to add: Congratulations on that red card, Ploshkin ...

Chilli-head

Admin and Boss man




Posts

: 2637


Join date

: 2010-02-23


Location

: Bedfordshire





Similar topics
---
Permissions in this forum:
You
cannot
reply to topics in this forum