Who is online?
In total there are
2
users online :: 0 Registered, 0 Hidden and 2 Guests
None
Most users ever online was
62
on 10th April 2015, 8:24 am
Latest topics
»
Harvest season in the September garden
by
Dandelion
Yesterday at 10:10 pm
»
Curry powder
by
Chilli-head
19th September 2018, 6:41 pm
»
Tomato Relish
by
Ploshkin
17th September 2018, 9:05 pm
»
What are you preserving today?
by
Ploshkin
16th September 2018, 11:08 am
»
Reflections on the season - 2018
by
Dandelion
14th September 2018, 7:04 pm
»
A good year for the forager ?
by
Ploshkin
12th September 2018, 9:03 pm
»
First go at proper wine
by
Chilli-head
10th September 2018, 10:07 am
»
What are you harvesting today?
by
Chilli-head
8th September 2018, 9:10 pm
»
Pizza oven !
by
freebird
3rd September 2018, 4:37 pm
»
Plummeting potato sales
by
Ploshkin
19th August 2018, 11:31 am
»
The neglected August garden
by
freebird
19th August 2018, 10:27 am
»
New Things In Your Pond Today...
by
FloBear
15th August 2018, 4:57 pm
»
The magazine rack
by
Chilli-head
12th August 2018, 7:55 pm
»
What arts and craft things have you been making lately?
by
FloBear
30th July 2018, 1:53 pm
»
Trying to avoid wilting in the July garden
by
Dandelion
29th July 2018, 4:03 pm
»
whats on the menu
by
FloBear
27th July 2018, 12:32 pm
»
Weekend at the Kettlewell hostel
by
Chilli-head
13th July 2018, 4:56 pm
»
No-dig gardening & weed control
by
freebird
10th July 2018, 7:40 pm
»
Pest Controls...
by
Chilli-head
9th July 2018, 2:09 pm
»
Summer has arrived in the garden in June
by
Dandelion
26th June 2018, 9:26 pm
Statistics
We have
241
registered users
The newest registered user is
bobfoz
Our users have posted a total of
45862
messages in
2366
subjects
Donate to our Charity
The Homemade life supports Kiva - microloans for people in developing countries working to change their lives. These loans are repaid to our KIVA account, so your donation is used many times to help different people - literally the gift that keeps on giving..

I have always scoffed at the notion that there was such a thing as a slug resistant potato, dismissing it as just a marketing gimic.  But look at this.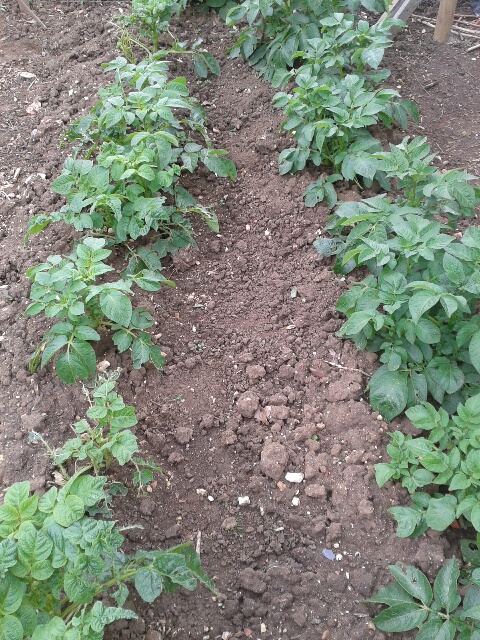 I don't know how clearly you can see this in the picture, but these are two rows of potatoes, side by side, planted at the same time in my allotment.  the Maris Piper on the left have been severely damaged by slugs; they are growing back now and will recover, but some have had all the leaves stripped completely.  The row of King Edwards on the right were
completely
untouched.  Interesting.
I have now applied Nemaslug biological control, so hopefully my potatoes will not be too full of holes, but it will be interesting to see how the two types compare at harvest.

Chilli-head

Admin and Boss man




Posts

: 2600


Join date

: 2010-02-23


Location

: Bedfordshire



When I read the title of this thread, I assumed it meant the potatoes themselves. Despite having a lot of problems with slugs and snails here, I can't ever recall them eating the potato foliage to any degree. The problem I've always had is small black slugs burrowing into the tubers, which always happens with any that I grow to a decent size.

freebird




Posts

: 1699


Join date

: 2011-10-19


Age

: 62


Location

: South East England



Yes FB - it is normally the tubers people are talking about; I have always assumed that slug resistance was marketing or wishful thinking. But seeing the very clear difference on the extent to which the foliage is attacked, I now wonder whether it is just possible that there is a difference in the resistance of the tubers too. Or maybe not. But I'll take note when I dig them.

Chilli-head

Admin and Boss man




Posts

: 2600


Join date

: 2010-02-23


Location

: Bedfordshire



I'm growing a few first earlies in a large pot and a dustbin this year. The dustbin potatoes are fine (presumably too far up for the slugs and snails to climb) but the potato foliage in the pot has been eaten almost to nothing in places. I don't remember seeing slugs attack potato leaves like this before.

................................................................................................................................
The richer we have become materially, the poorer we have become morally and spiritually. We have learned to fly in the air like birds and swim in the sea like fish, but we have not learned the simple art of living together as brothers and sisters.

-Martin Luther King, Jr.

Dandelion

Admin




Posts

: 4717


Join date

: 2010-01-17


Age

: 61


Location

: Ledbury, Herefordshire



Despite the fact that I live in a very wet place I don't get slug problems with spuds but I only grow earlies. The only time I have had slugs was when I grew a Sarpo maincrop variety that are said to have good blight resistance. They didn't get blight but the tubers were so riddled with slug holes that most were unusable.

Ploshkin




Posts

: 1273


Join date

: 2013-07-18


Location

: Mid Wales





Similar topics
---
Permissions in this forum:
You
cannot
reply to topics in this forum