Who is online?
In total there are
2
users online :: 0 Registered, 0 Hidden and 2 Guests
None
Most users ever online was
62
on 10th April 2015, 8:24 am
Latest topics
»
What are you harvesting today?
by
FloBear
16th July 2018, 9:24 pm
»
Trying to avoid wilting in the July garden
by
Chilli-head
16th July 2018, 10:03 am
»
Weekend at the Kettlewell hostel
by
Chilli-head
13th July 2018, 4:56 pm
»
No-dig gardening & weed control
by
freebird
10th July 2018, 7:40 pm
»
Pest Controls...
by
Chilli-head
9th July 2018, 2:09 pm
»
Summer has arrived in the garden in June
by
Dandelion
26th June 2018, 9:26 pm
»
whats on the menu
by
Chilli-head
25th June 2018, 9:38 pm
»
Proud for once ....
by
freebird
18th June 2018, 8:22 am
»
An excellent walk - 3 days in Snowdonia
by
FloBear
8th June 2018, 6:23 pm
»
The magazine rack
by
Chilli-head
1st June 2018, 4:44 pm
»
Hoping there May be a bit less rain on the garden !
by
Chilli-head
31st May 2018, 8:40 pm
»
Housekeeping
by
Dandelion
31st May 2018, 4:42 pm
»
Breadmaker recipes
by
FloBear
8th May 2018, 9:16 am
»
Hand Weeding Tool
by
FloBear
2nd May 2018, 5:03 pm
»
Gardening between the April showers
by
FloBear
30th April 2018, 8:52 am
»
What have I done in the workshop today?
by
Chilli-head
28th April 2018, 6:51 pm
»
Knitting in the round
by
FloBear
12th April 2018, 11:51 am
»
Anyone braving the garden in March ?
by
Chilli-head
1st April 2018, 10:21 pm
»
Seed swap anyone?
by
FloBear
15th March 2018, 3:56 pm
»
Waste collection consultation
by
Ploshkin
4th March 2018, 9:20 am
Statistics
We have
238
registered users
The newest registered user is
Pat B.
Our users have posted a total of
45672
messages in
2358
subjects
Donate to our Charity
The Homemade life supports Kiva - microloans for people in developing countries working to change their lives. These loans are repaid to our KIVA account, so your donation is used many times to help different people - literally the gift that keeps on giving..

I finished off my first stool made using green woodworking techniques, which I started at the Bodger's Ball. It is made from Wimpole estate ash, with a woven seagrass top which I finished last night in the living room in front of the TV.  As an aside, this made a right old mess on the carpet, good job I have a tolerant family  

It was not without some struggle.  I was a tad worried that the top rails were joined quite close to the top of the legs which, being ash, might easily split when the tenons were driven home.  I was quite right - I had to turn one replacement leg ...  next time I'll leave a bit more length above the joint and perhaps make them a wee bit less snug.  Still, here it is.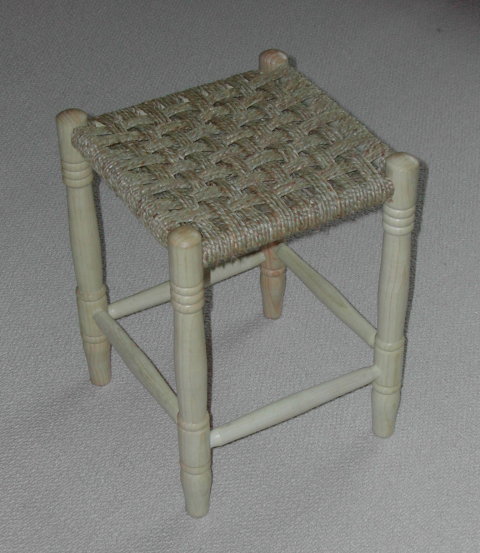 Last edited by Chilli-head on 31st May 2018, 5:15 pm; edited 1 time in total

Chilli-head

Admin and Boss man




Posts

: 2559


Join date

: 2010-02-23


Location

: Bedfordshire



Ooh, that's nice, CH. Ash is a lovely looking wood. I always prefer the greyer coloured woods to orangey colours. I guess though, if you have to make the top of the legs longer to avoid splitting, you would have to offset that against making the stool uncomfortable to sit on.

freebird




Posts

: 1663


Join date

: 2011-10-19


Age

: 61


Location

: South East England



Yes, the comfort factor worried me. I have memories of many, many hours of sitting on traditional Greek cafe chairs(*), with the top of the legs digging into the muscles at the back of my legs, and didn't want that. But sitting on this one, it is quite comfy in that regard, and I think a tad longer would have beeen OK.

According to the Bodger's forum, the trick is to put a jubilee clip round the top of the leg as you assemble, and leave it there until the wood has dried out a bit. Simple, heh ?

(*) If you hadn't noticed, I have a fondness for most things Greek. Except Ouzo.

Chilli-head

Admin and Boss man




Posts

: 2559


Join date

: 2010-02-23


Location

: Bedfordshire



It's beautiful, Chilli. Was the seagrass a bit hard on your hands? I've re-caned a chair (using a 1940s Dryad leaflet for instructions) and it was quite a blistering process!

................................................................................................................................
The richer we have become materially, the poorer we have become morally and spiritually. We have learned to fly in the air like birds and swim in the sea like fish, but we have not learned the simple art of living together as brothers and sisters.

-Martin Luther King, Jr.

Dandelion

Admin




Posts

: 4688


Join date

: 2010-01-17


Age

: 61


Location

: Ledbury, Herefordshire



This seagrass was coarser stuff than I've had before, but the rustic look is appropriate. It is pretty rough on the hands to work. I made a rather small kit seagrass stool for C-H jnr when he was small, and I simply repeated the method from that kit, using the seagrass needle that came with it.

The seagrass also seemed quite dusty, it make me cough a lot.

Chilli-head

Admin and Boss man




Posts

: 2559


Join date

: 2010-02-23


Location

: Bedfordshire



We visited Chesterfield whilst in Derbyshire at the weekend, and I saw the bizarre twisted spire of the parish church for the first time 
http://en.wikipedia.org/wiki/Church_of_St_Mary_and_All_Saints,_Chesterfield
. It made me smile as there is/was a theory that it was caused by making it from green wood. I had visions of your stool doing some strange contortions over the next several hundred years.

freebird




Posts

: 1663


Join date

: 2011-10-19


Age

: 61


Location

: South East England



In the trade that's called "character"

Green wood definitely will change shape.  Partly this is exploited - the horizontal rails of the stool are turned first and left to dry somewhat (in my case, whilst my wrist healed !).  Then the legs are turned, drilled, and the stool assembled by knocking it together with a mallet. The green legs then dry, shrinking as they do so, and grip the tenons on the end of the rails locking the thing together with no glue required.  Careful judgement about how tight to make the joints is needed though.
Green woods shrinks, as a rule of thumb, by ~10% circumferentially, ~5% radially, and very littile logitudunally. (That's why logs develop radial cracks). So any item turned round ends up slightly oval.  This is again exploited with the stool joints, the tenons are oriented so that the wide axis of the oval tenon goes in the direction of the grain on the leg, not across it, reducing the likelyhood of spitting the leg apart when driving home the joint.
Here, because all the bits are quite small, you use a bit of care in selecting your wood to avoid knots.  Straight grained woods usually behave predictably as I described above, but gnarly, knotty bits are both harder to turn to a nice finish, and tend to distort more wildly on drying.  I guess in pieces of timber large enough to build a cathedral, it is hard to get straight grained knot free lengths.
I made a small bowl out of cherry wood, and I used a crotch where the trunk split in two to give me a wide, flat piece to start.  It has now dried a very, very strange shape although it is still in one piece.  Character ...
PS: I edited your post Freebird to fix the link which didn't work for me. Don't know why, but it works now !

Chilli-head

Admin and Boss man




Posts

: 2559


Join date

: 2010-02-23


Location

: Bedfordshire





Similar topics
---
Permissions in this forum:
You
cannot
reply to topics in this forum