Who is online?
In total there is
1
user online :: 0 Registered, 0 Hidden and 1 Guest
None
Most users ever online was
62
on 10th April 2015, 8:24 am
Latest topics
»
Springtime (?) in the March garden
by
Chilli-head
Yesterday at 8:51 pm
»
What are you harvesting today?
by
Ploshkin
Yesterday at 2:09 pm
»
The frozen February garden
by
Chilli-head
25th February 2019, 1:25 pm
»
What have I done in the workshop today?
by
FloBear
24th February 2019, 7:03 pm
»
What arts and craft things have you been making lately?
by
Ploshkin
20th February 2019, 10:33 am
»
Green guilty pleasures and penance !
by
Dandelion
15th February 2019, 6:11 pm
»
Hornbeam avenue
by
FloBear
15th February 2019, 5:00 pm
»
The gardener's yearbook
by
Chilli-head
4th February 2019, 1:24 pm
»
Eco funeral options ...
by
Dandelion
3rd February 2019, 5:17 pm
»
Hungry Birds
by
Ploshkin
1st February 2019, 1:01 pm
»
First go at proper wine
by
FloBear
30th January 2019, 6:36 pm
»
January, welcome in a new gardening year
by
FloBear
25th January 2019, 2:14 pm
»
Seed swap anyone?
by
FloBear
25th January 2019, 2:12 pm
»
What are you preserving today?
by
freebird
18th January 2019, 12:30 pm
»
Food environmental impact
by
Chilli-head
17th January 2019, 3:36 pm
»
Right to repair
by
Chilli-head
13th January 2019, 12:03 pm
»
New Kiva loan
by
Dandelion
4th January 2019, 3:40 pm
»
Kiva - Loans that change lives.
by
Chilli-head
3rd January 2019, 3:37 pm
»
Kiva repayments
by
Chilli-head
2nd January 2019, 5:47 pm
»
More mead ...
by
Chilli-head
2nd December 2018, 9:41 pm
Statistics
We have
243
registered users
The newest registered user is
1mhavener@gmail.com
Our users have posted a total of
45529
messages in
2327
subjects
Donate to our chosen Charity

Homemade Life forum supports
Kiva micro-loans
: supporting people looking to create a better future for themselves, their families and their communities. You can donate
here
Page 5 of 5 •

1, 2, 3, 4, 5

I spent most of Saturday repairing a laundry basket.  Why ? Good question. It fits perfectly in C-H Jnr's wardrobe - which is not coincidental as it was part of the design of the wardrobe shelving. Can we find a new one of a similar size ? No chance.
So, repaired the broken framework of the lid, rewove the basketry where it had all come unravelled because of the broken frame.  That was the easy bit.  Then to replace the cloth liner.  I found an old cotton sheet with enough good fabric to do the job, then hauled out my old adversary - the Riccar sewing machine - preparing myself for the inevitable battle
But this time, I'm afraid I lost.  Sewing completed by hand, and Riccar machine thrown in the tip pile.  Can't make it go.  The belt is slipping, which I could fix, but the dratted thing won't sew whatever I do. All lubricated and moving freely, but it keeps breaking the thread where it goes through the needle, and no stitches are being made - seems like it is not catching the top thread with the shuttle. I tried all sorts of four letter words, none of them helped.  Enough ! time for a new one.

Chilli-head

Admin and Boss man




Posts

: 2718


Join date

: 2010-02-23



Funny you should have been doing a laundry basket CH.  For ages now I have been wanting to learn how to make a skep and a week or so ago I went on a skep making day.  It was a really good day with a group of 12 people and the tutor was excellent.  I a slow doer so I didn't get as far as some people but we all went home with the tools, straw and knowhow to complete the skep.  The tool is a ropemaker's fid.  I didn't know that this type of construction is known as lipwork.  The straw we used is Triticale.  I will get it finished but as you end up splashing water around and getting straw everywhere it's not really an indoor job so I will get it out when the weather warms up a bit.  It doesn't look particularly impressive but here it is.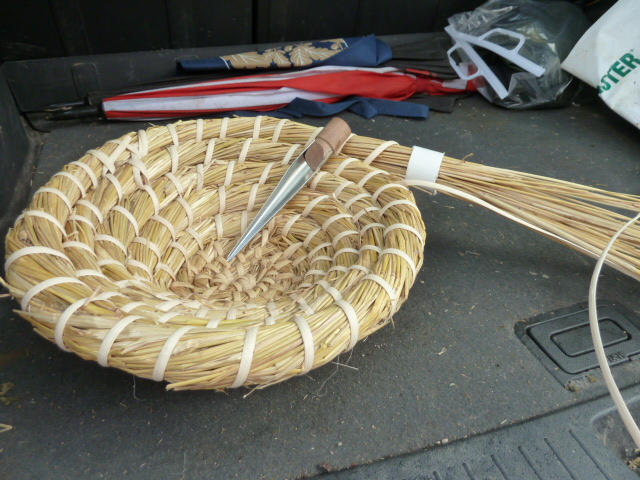 Ploshkin




Posts

: 1345


Join date

: 2013-07-18


Location

: Mid Wales



Well, I'm impressed, Ploshkin!
Looking forward to seeing the finished article though I presume there is a way to go if a skep is what I think it is.

FloBear




Posts

: 646


Join date

: 2015-02-10


Location

: East Dorset



That looks rather a nice job Ploshkin. What is the stuff used to bind round the straw ? I presume that is the bit that needs soaking. Do you just add new lengths of straw to the bundle when you come to the end of the existing ones, so as to keep the bundle the same thickness ?

Chilli-head

Admin and Boss man




Posts

: 2718


Join date

: 2010-02-23


Location

: Bedfordshire



The binding is rattan cane (I think) used for basket making and does need wetting to keep it pliable. Traditionally, bramble is used for binding and the tutor showed us how to strip and cut brambles for the job - rather laborious. I learnt something though - I didn't know that bramble is pentagonal in section.
All of the straw passes through a feeder, traditionally a section of cow horn but we used a piece of plastic pipe, I've also seen sections of plastic bottle top used. You keep poking straw into the centre of the bundle to keep the feeder filled. We started off with less but increased the thickness of the bundle once the first couple of tight rounds were complete. Also, traditionally, a goose leg bone with the end pared to a point is used as a fid.
If / when I get this one completed I may have a go with rushes which are plentiful round here. I didn't think they would be long enough but although the straw used is long, by the time you've stripped off the leaves and heads it's considerably shorter.

It was a fact finding mission really, I would like to have a small group of people in the beekeeping Association who know how to do it so that we can have our own workshops as it's difficult and expensive to find someone to come and do a day. One of our members has a brother in law who is a thatcher so we have a source of suitable straw.

Ploshkin




Posts

: 1345


Join date

: 2013-07-18


Location

: Mid Wales



It looks good Ploshkin - keep us up to date with your progress. Was it hard on the hands?

................................................................................................................................
The richer we have become materially, the poorer we have become morally and spiritually. We have learned to fly in the air like birds and swim in the sea like fish, but we have not learned the simple art of living together as brothers and sisters.

-Martin Luther King, Jr.

Dandelion

Admin




Posts

: 4812


Join date

: 2010-01-17


Age

: 62


Location

: Ledbury, Herefordshire



Ooh yes, Dandelion, it was hard on my crappy hands.

Ploshkin




Posts

: 1345


Join date

: 2013-07-18


Location

: Mid Wales



It looks really good, Ploshkin ...... but, straw? I thought that was the cause of your health problems last winter.

freebird




Posts

: 1767


Join date

: 2011-10-19


Age

: 62


Location

: South East England



A few handfuls of clean straw are no problem. Spreading a big round bale every day for 6 months, when the straw contains / may contain mould spores, is to be avoided. We're using straw in the sheep shed and I keep well out of the way when the pens are strawed down but in the couple of months the sheep are in the shed we will probably use less than 10 big bales. For the cows we would have used over 200. This year, the straw is very clean because of the good summer. Last year the straw was very dusty because of the excessively wet summer in 2017.

Ploshkin




Posts

: 1345


Join date

: 2013-07-18


Location

: Mid Wales



Page 5 of 5 •

1, 2, 3, 4, 5


Similar topics
---
Permissions in this forum:
You
cannot
reply to topics in this forum