Who is online?
In total there are
2
users online :: 0 Registered, 0 Hidden and 2 Guests
None
Most users ever online was
112
on 8th October 2020, 7:09 am
Latest topics
»
The October garden
by
freebird
Today at 9:28 am
»
Tomato Relish
by
freebird
21st October 2020, 9:57 pm
»
What are you harvesting today?
by
freebird
20th October 2020, 9:05 am
»
Ross Cobbs
by
FloBear
19th October 2020, 7:19 pm
»
What arts and craft things have you been making lately?
by
Dandelion
7th October 2020, 9:50 pm
»
Red Mite
by
Dandelion
19th September 2020, 10:33 pm
»
The September Garden
by
Dandelion
14th September 2020, 9:59 pm
»
Bit of a wobble
by
Dandelion
17th August 2020, 9:48 pm
»
Ex-commercial hens
by
Dandelion
17th August 2020, 9:45 pm
»
Welcome guest
by
FloBear
12th August 2020, 9:44 pm
»
Pesky blackbirds
by
Chilli-head
10th August 2020, 11:16 pm
»
Cambridge replacement folk service
by
Chilli-head
4th August 2020, 1:09 pm
»
What have I done in the workshop today?
by
freebird
20th July 2020, 8:14 pm
»
July - welcome to the Autumn garden !
by
Dandelion
16th July 2020, 6:35 pm
»
What can I do with ...?
by
Dandelion
5th July 2020, 10:42 pm
»
New Kiva loan
by
Dandelion
3rd July 2020, 12:37 pm
»
Allotment
by
freebird
2nd July 2020, 8:43 pm
»
New arrivals
by
FloBear
29th June 2020, 7:38 pm
»
Likes/dislikes
by
Chilli-head
24th June 2020, 11:18 am
»
The June garden
by
Chilli-head
23rd June 2020, 10:50 am
Statistics
We have
250
registered users
The newest registered user is
Jeleleli
Our users have posted a total of
46991
messages in
2382
subjects
Donate to our chosen Charity

Homemade Life forum supports
Kiva micro-loans
: supporting people looking to create a better future for themselves, their families and their communities. You can donate
here
I could probably write a book about 'my method' of tanning hides and skins. So.. don't want to go there!
Better to begin where I most recently left off! I will say that if I knew then what I know now, I'd have used the shears I bought for removing the wool from our fiber flock on the deerskins a lot sooner. I prefer freezing skins as the best possible means of storage. They can then be taken out of the freezer and done singly in a relatively simple manner. I "cheat" and use modern tools to prevent having to labor dearly whenever possible. The power washer has a con. and it is possibly making a skin less stretchy, maybe more 'dense'.. I don't know.. but I don't REALLY care as it is just so much easier for me tanning alone. I will soon be in my mid 50's so as a lone elder I will definitely run the power washer and it's turbo nozzle attachment when it comes time for fleshing and this in my book is ASAP. I left my skins to hang in the freezing weather. Perhaps almost half I had salted when it finally 'came to me' that I'd be much better off to get another set of sheep shears! Next year I will be in a much better frame to store these skins in a much more proficient manner.. which also is ASAP. Anyway I managed to get a handle on the skins before anything became TOO ugly, lol. Hopefully the skins haven't gotten bit by frost.. well, they probably HAVE.. AND the salt? well those skins in our climate will ALWAYS attract humidity even after having been fully tanned with the SMOKE. I am in to brain or oil or soap tanning, mostly.. however none of those do the tanning itself.. that is accomplished only with the SMOKE.. or the aldehydes in the smoke. It is all a painstaking laborious task. BUT.. when finished it's just a great material.. SO.. hopefully I will get much more prolific and have LOTS more things to display SOMETIME.. or ONE of these days!
I think I accomplished more when I had LESS hides, lol. Tanning hides and furs in the backyard with nothing much more than brains, oils, soap, and smoke, IS a rather slippery slope! After ten years I feel that I am 'getting there',
I really don't ever want to work on any more coyote furs!
I can say however that I have met the challenge of brain tanning them. The thrill of tanning coyotes has got up and LEFT! I don't think the mountain men wore coyote skins and even the American Indians stayed the heck away from the tricksters.. so I think it's really best if I avoid those from now on!
These are some very recent pictures!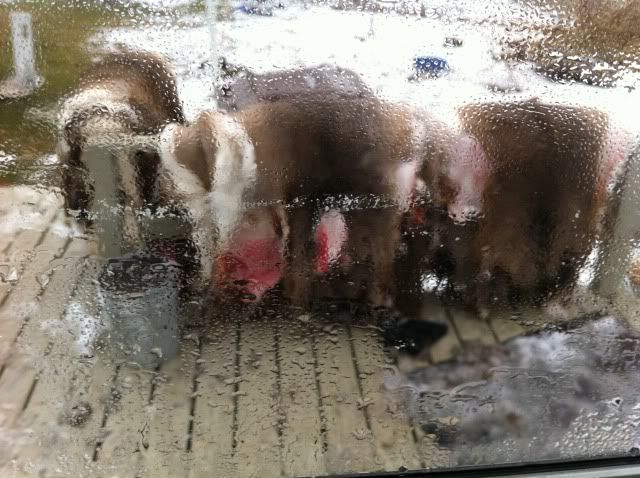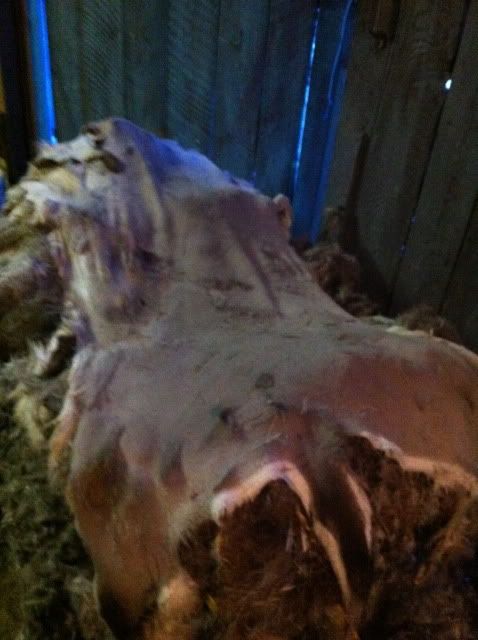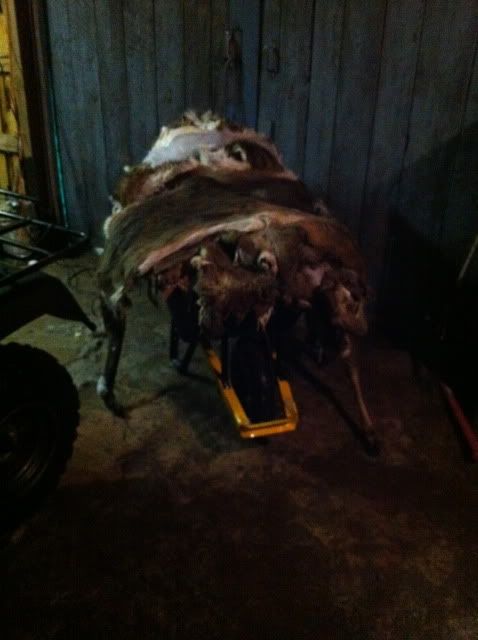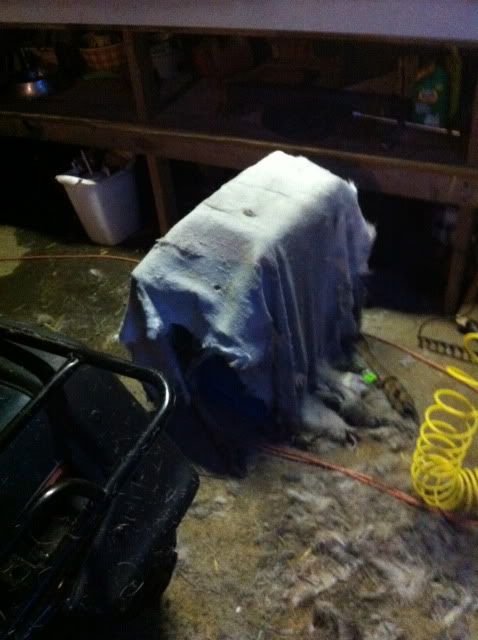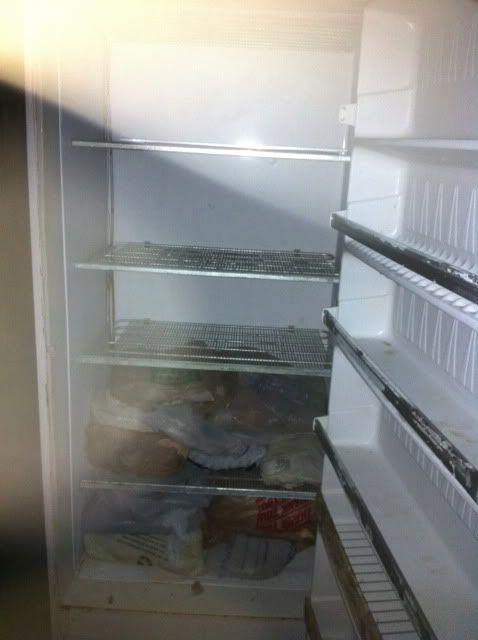 There are only about half of the skins I collected free from local hunters in this freezer.. the other half are taking up most of a smaller chest freezer in our house. Next year I plan to power wash flesh.. hang over the rail.. possibly overnight to drain and next day perhaps shear, trim and wrap hair side in and then freeze. Once upon a time before it dawned on me to use the shears I would, scrape both sides of the skins.. Including that 'grain' or epidural layer that the hair is in, then rinse BUT.. it's really making things much more difficult to freeze them. They are then soaking wet and really need to be wrung out to freeze better! Skins really need to soak and relax to 'grain' much better but this is best done before scraping.. and possibly AFTER freezing. My tribe prefers not to mess with any animal skins BUT.. after they're all nice and tanned and soft.. well then they're happy to have anything I then make!
Here is a sample of the products that can be fairly easily made. These could have been smoked a bit more heavily, btw..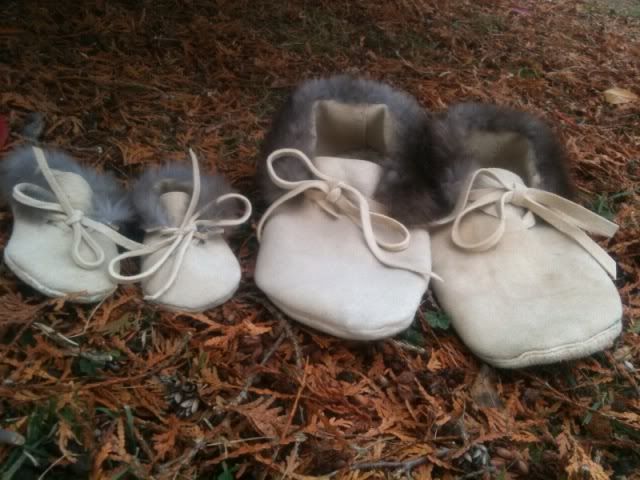 It's been a little while since I made anything from my leather! Hopefully get back to doing that again soon!

msbraintan




Posts

: 11


Join date

: 2012-01-30



---
Permissions in this forum:
You
cannot
reply to topics in this forum