Who is online?
In total there is
1
user online :: 0 Registered, 0 Hidden and 1 Guest
None
Most users ever online was
112
on 8th October 2020, 7:09 am
Latest topics
»
What are you harvesting today?
by
Dandelion
29th September 2022, 9:28 pm
»
New Kiva loan
by
Dandelion
6th September 2022, 9:21 pm
»
What have I done in the workshop today?
by
Chilli-head
1st September 2022, 4:52 pm
»
Late sowings in August ... beans ?
by
Ploshkin
11th August 2022, 9:29 am
»
Come August, come night in the garden
by
Chilli-head
4th August 2022, 3:29 pm
»
Welcome guest
by
Ploshkin
31st July 2022, 9:16 am
»
The Jolly July Garden
by
Ploshkin
19th July 2022, 11:38 am
»
More mead ...
by
Chilli-head
13th July 2022, 12:52 pm
»
The June garden thread
by
Dandelion
25th June 2022, 9:55 pm
»
Plastic bags
by
Dandelion
5th June 2022, 7:28 pm
»
The merry May garden
by
Dandelion
31st May 2022, 10:04 pm
»
Fooling around in the April garden
by
freebird
1st May 2022, 8:33 am
»
March into the garden
by
Dandelion
1st April 2022, 7:26 pm
»
Mow Suggestions
by
freebird
29th March 2022, 5:48 pm
»
Some thoughts on resilience
by
Ploshkin
12th March 2022, 2:23 pm
»
February garden action !
by
Dandelion
24th February 2022, 1:57 pm
»
Rising prices
by
Dandelion
8th February 2022, 8:50 am
»
Preparing for winter
by
Ploshkin
7th February 2022, 8:56 pm
»
January garden plans
by
FloBear
3rd February 2022, 7:49 pm
»
Hugelkultur
by
Chilli-head
19th January 2022, 5:56 pm
Statistics
We have
263
registered users
The newest registered user is
SophiePeters
Our users have posted a total of
48011
messages in
2412
subjects
Donate to our chosen Charity

Homemade Life forum supports
Kiva micro-loans
: supporting people looking to create a better future for themselves, their families and their communities. You can donate
here
Since it looks like the Green Deal won't be keeping us warm this winter, I've ordered in more logs.  Mine come from a (very) local tree surgeon, but being waste wood they are not always cut and split as small as my little stove needs.  Anticipating a new batch next weekend, Saturday's job was to build a sawhorse to save wear and tear on the old workmate.
The starting point, an unpromising looking pile of scrap: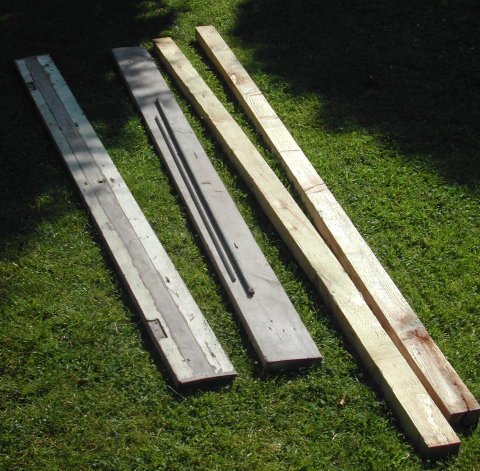 Some skip wood - old door frame and some 2x3" sawn softwood, a bit of steel compressed air pipe, and a surplus length of 8mm studding.  My plan to plane off the painted wood with the power planer was thwarted after just one piece by the bearings seizing up, so the rest had to be done by hand with my homemade scrub plane.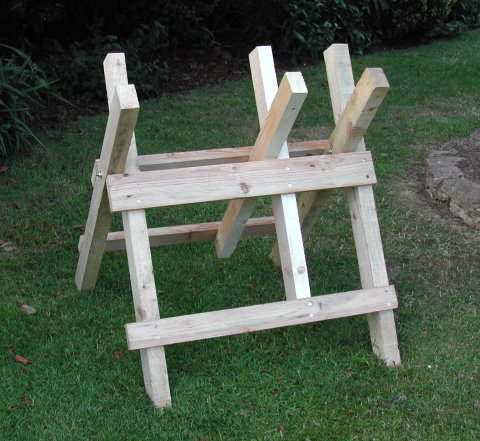 I was going to post a step by step set of photos, but it isn't really necessary, the construction is pretty apparent.  The steel tube and the studding make the hinge joints to allow it to fold up for storage.  You can pick the dimensions to suit your stature, but as a guide the leg pieces were 1m long, and the width is 0.8m. When standing, the legs slope at 30 degrees to the vertical, giving a reasonably stable base.
Last edited by Chilli-head on 2nd May 2018, 4:44 pm; edited 1 time in total

Chilli-head

Admin and Boss man




Posts

: 3290


Join date

: 2010-02-23


Location

: Bedfordshire



I spent some time using this on Saturday. The current batch of logs has a lot of eucalyptus, frustratingly cut to about 2-4" longer than my stove is wide. Cutting these in half used to be a hard job, but the saw horse gives a way of gauging if they are too long, and holding the overly long ones whilst sawing. The trick is to make the gap between the middle and right legs in the photo the same size as the longest length that fits your stove. Then if the log won't sit across them for sawing, it is short enough to fit the stove already !
Got all my logs under cover now. Just in time for the rain to stop 

Chilli-head

Admin and Boss man




Posts

: 3290


Join date

: 2010-02-23


Location

: Bedfordshire



We went down to our wood yesterday to find that a massive ash tree had come down on the fence.  There's about 50m of fence to repair, to stop neighbouring sheep getting in & eating the saplings but we've got loads of lovely firewood for the boiler for a couple of years time.  It'll be a big chainsaw job for Mr P & am I glad we have a hydraulic splitter.

Ploshkin




Posts

: 1778


Join date

: 2013-07-18


Location

: Mid Wales



I'm envious now. But if it is a big tree, could any of it be made into something better than firewood ?

Chilli-head

Admin and Boss man




Posts

: 3290


Join date

: 2010-02-23


Location

: Bedfordshire



When you're nice & warm indoors & it's freezing outside, there's nothing better than firewood!
We do know someone who does chainsaw sculptures, I've no doubt he will be bagging a bit. We have previously sawn some of our big Douglas & used it for roofing timbers for one of the sheds.


Ploshkin




Posts

: 1778


Join date

: 2013-07-18


Location

: Mid Wales



---
Permissions in this forum:
You
cannot
reply to topics in this forum