Who is online?
In total there are
2
users online :: 1 Registered, 0 Hidden and 1 Guest
Chilli-head
Most users ever online was
112
on 8th October 2020, 7:09 am
Latest topics
»
The October garden
by
freebird
Today at 9:28 am
»
Tomato Relish
by
freebird
21st October 2020, 9:57 pm
»
What are you harvesting today?
by
freebird
20th October 2020, 9:05 am
»
Ross Cobbs
by
FloBear
19th October 2020, 7:19 pm
»
What arts and craft things have you been making lately?
by
Dandelion
7th October 2020, 9:50 pm
»
Red Mite
by
Dandelion
19th September 2020, 10:33 pm
»
The September Garden
by
Dandelion
14th September 2020, 9:59 pm
»
Bit of a wobble
by
Dandelion
17th August 2020, 9:48 pm
»
Ex-commercial hens
by
Dandelion
17th August 2020, 9:45 pm
»
Welcome guest
by
FloBear
12th August 2020, 9:44 pm
»
Pesky blackbirds
by
Chilli-head
10th August 2020, 11:16 pm
»
Cambridge replacement folk service
by
Chilli-head
4th August 2020, 1:09 pm
»
What have I done in the workshop today?
by
freebird
20th July 2020, 8:14 pm
»
July - welcome to the Autumn garden !
by
Dandelion
16th July 2020, 6:35 pm
»
What can I do with ...?
by
Dandelion
5th July 2020, 10:42 pm
»
New Kiva loan
by
Dandelion
3rd July 2020, 12:37 pm
»
Allotment
by
freebird
2nd July 2020, 8:43 pm
»
New arrivals
by
FloBear
29th June 2020, 7:38 pm
»
Likes/dislikes
by
Chilli-head
24th June 2020, 11:18 am
»
The June garden
by
Chilli-head
23rd June 2020, 10:50 am
Statistics
We have
250
registered users
The newest registered user is
Jeleleli
Our users have posted a total of
46991
messages in
2382
subjects
Donate to our chosen Charity

Homemade Life forum supports
Kiva micro-loans
: supporting people looking to create a better future for themselves, their families and their communities. You can donate
here
Dandelion was asking in the tea room if anyone got any homemade gifts this Christmas. Well, aside from C-H Jnr's hamper and some tomato chutney, I didn't, but I did give a few homemade gifts. This one was made for a Clearview stove owning woodworker.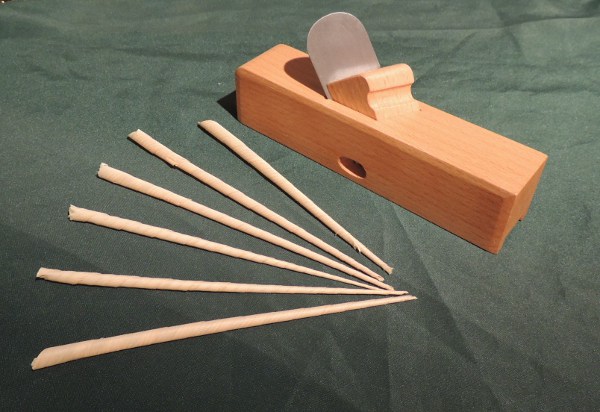 It's a spill plane. The steeply bedded and heavily skewed cutter, and the shape of the plane body and wedge, cause it to take shavings that curl up tightly and are ejected out of the hole in the side. They burn steadily for a few tens of seconds, and give a much better reach for fire lighting than a match.

Chilli-head

Admin and Boss man




Posts

: 3053


Join date

: 2010-02-23


Location

: Bedfordshire



I meant to reply to this when I first saw it but got sidetracked.

What a great bit of kit CH. Does it work with any wood, or just certain types? And is there something about a Clearview stove that needs a longer reach? I use long matches, but only because I don't have an such elegant solution as yours.

freebird




Posts

: 2078


Join date

: 2011-10-19


Age

: 64


Location

: Powys



Ah, I can see it now on the big computer screen rather than the Kindle. I couldn't work out how the curl worked as I had envisaged it curling the other way & wondered how it ended up straight when it came out (sorry, I think in pictures and it has to look right in my head before I can understand things). It is, of course, quite lovely.

Ploshkin




Posts

: 1608


Join date

: 2013-07-18


Location

: Mid Wales



Another beautiful piece of kit, Chilli. I hadn't spotted the curliness until Ploshkin made her comment.

FloBear




Posts

: 798


Join date

: 2015-02-10


Location

: East Dorset



I didn't mean that Clearview stoves had any more need for longer matches than any other, but they are a top end stove, and most of the owners I know are quite enthusiasts about their woodburning, so likely to be fond of their accessories !

Relatively straight grained softwood works the best. You need a piece about 3/4 to 1 inch thick, and as foot or so long. The shaving rolls up tightly, and emerges through the hole in the side as a long, conical spiral wound "tube", as you can just about see.

Spill planes are mostly a thing from the past; at the time they were popular it would have been more common to have naked flames available to transfer around with a spill - lighting the fire from a candle, lighting your pipe from the fire, etc. Now they are mosly a bif of fun, perhaps a nice object to sit on the mantle piece and intrigue visitors. And handy when the long matches run out !

Chilli-head

Admin and Boss man




Posts

: 3053


Join date

: 2010-02-23


Location

: Bedfordshire



---
Permissions in this forum:
You
cannot
reply to topics in this forum