Who is online?
In total there is
1
user online :: 0 Registered, 0 Hidden and 1 Guest
None
Most users ever online was
112
on 8th October 2020, 7:09 am
Latest topics
»
What are you harvesting today?
by
freebird
22nd July 2021, 11:26 pm
»
What's left of the July garden
by
FloBear
20th July 2021, 2:12 pm
»
Welcome guest
by
Ploshkin
2nd July 2021, 7:14 am
»
Artichokes
by
Chilli-head
24th June 2021, 2:53 pm
»
New Kiva loan
by
Dandelion
11th June 2021, 5:18 pm
»
Heat in the June garden at last !
by
Ploshkin
5th June 2021, 7:22 pm
»
whats on the menu
by
freebird
3rd June 2021, 8:34 pm
»
Fresh shoots in May
by
Ploshkin
31st May 2021, 9:17 pm
»
What arts and craft things have you been making lately?
by
FloBear
23rd May 2021, 7:41 pm
»
Peak planting in the April garden
by
Chilli-head
4th May 2021, 8:26 am
»
The gardener's yearbook
by
Chilli-head
6th April 2021, 11:10 am
»
Springing into action in the March garden
by
Chilli-head
27th March 2021, 6:31 pm
»
What have I done in the workshop today?
by
FloBear
11th March 2021, 7:17 pm
»
A late start to the February garden
by
Florence
1st March 2021, 12:43 pm
»
Plant labels
by
Dandelion
27th February 2021, 9:38 pm
»
When we come out of the other side of this ...
by
Florence
24th February 2021, 10:14 am
»
My anti virus doesn't like this forum
by
Florence
22nd February 2021, 2:29 pm
»
The January quagmire
by
freebird
27th January 2021, 2:47 pm
»
The Christmas workshop
by
Chilli-head
29th December 2020, 12:03 pm
»
Anyone still gardening in December ?
by
Dandelion
3rd December 2020, 9:53 pm
Statistics
We have
260
registered users
The newest registered user is
Steve Coles
Our users have posted a total of
47570
messages in
2397
subjects
Donate to our chosen Charity

Homemade Life forum supports
Kiva micro-loans
: supporting people looking to create a better future for themselves, their families and their communities. You can donate
here
OK, this is a Christmas present, but I don't think the recipient will be peeking in here.  I've spent a few hours making this:
It's a Japanese style woodworker's mortice marking gauge, or
Kama-keshiki
.  The two steel cutters can be set to scribe a pair of lines parallel to the edge of the workpiece. They are both locked in place by the brass thumbscrew, and can be fully retracted into the stock for protection when not in use. The wood is some sort of exotic, unknown to me but formerly part of the top of a built in bookcase in a friend's house.  It is really rather heavy, so hopefully hard wearing.  Never made one of these before, but a quick test seems to suggest it works.

Chilli-head

Admin and Boss man




Posts

: 3189


Join date

: 2010-02-23


Location

: Bedfordshire



That looks, as usual, absolutely beautiful, CH. Lucky, lucky recipient.

freebird




Posts

: 2166


Join date

: 2011-10-19


Age

: 64


Location

: Powys



What a lovely piece of kit. You are a very talented craftsman, CH.

FloBear




Posts

: 846


Join date

: 2015-02-10


Location

: Forest of Dean



Thanks.  I hope the recipient likes it too.  I think there is something very pretty about shiny metal against dark wood, especially for tools.  Rosewood is the finest I think, but the dark, hardwearing hardwoods are dense because they are slow growing, so many are now illegal to supply in the UK and only available as reclaimed.  I was lucky my friend saved that slab for me, it may have been in that house 50-100 years, so it will be pretty well seasoned by now !

Talented, hum.  I like to make things as tidy as I can, and have some pretty good rules for that:

- Plan before you start.  Anticipate what will go wrong - splintering when a drill bursts out the back of a piece of wood for example.  Work out the best order of attack so mistakes can be hidden, or at least don't spoil something that has taken a lot of work already.
- Go slowly when you're unsure.  If need be stop for a coffee and a think.
- Work a lot with your hands.  Feel is as important as looking, and you get the feel by doing. Over and over.
- Be very self-critical.
- Be prepared to scrap bits and start again.

Now, the really skilled craftsmen are so good they don't need to pause for thought and coffee.  They hardly need to look what they are doing, their hands work on autopilot.  I chatted to a guy making besoms once, he conversed, mostly making eye contact, while making a broom better and faster than most people could giving it their full attention. There is an economy of movement too, that means the job gets done with no unnecessary effort.  The trouble is, real craftsmen like that are so good that the layman sees it, and they make the job look easy !  Only when you come to try it do you realise it is not easy, but there is a lot of skill on display.

In my case, it just takes me ages ...

Chilli-head

Admin and Boss man




Posts

: 3189


Join date

: 2010-02-23


Location

: Bedfordshire



Don't do yourself down CH. Those skilled people such as you describe have made thousands of items, and much of their learning has now become part of their motor memory. Presumably you haven't made thousands of Japanese style mortices, so therefore it requires thought, care and cups of coffee.

freebird




Posts

: 2166


Join date

: 2011-10-19


Age

: 64


Location

: Powys




FloBear




Posts

: 846


Join date

: 2015-02-10


Location

: Forest of Dean



... and I third everything said so far. That is a beautiful piece of work Chilli Head.

Do any of you watch The Repair Shop? It's the only tv programme I would bother to actively seek out. I really like Will who specialises in wood. I've noticed that whenever he gets a piece of wood in his hands he smells it. I'm sure you smell your wood too CH.

Ploshkin




Posts

: 1692


Join date

: 2013-07-18


Location

: Mid Wales



Ooh yes I love the repair shop. Think I mentioned it before on this forum. My two favourites are Steve, the clock repairer and Kirsten who does ceramics. I am completely in awe of their exquisite work and skill.

Also enjoy watching the bookbinder chap, especially the recently shown episode repairing an album. They are all skills with which I am conversant, so able to enjoy from a different point of view.

Edited to add: sorry to hijack your thread, CH.

freebird




Posts

: 2166


Join date

: 2011-10-19


Age

: 64


Location

: Powys



This was my Secret Santa make this year, a marking knife and pair of dovetail marking gauges, made while hopping around !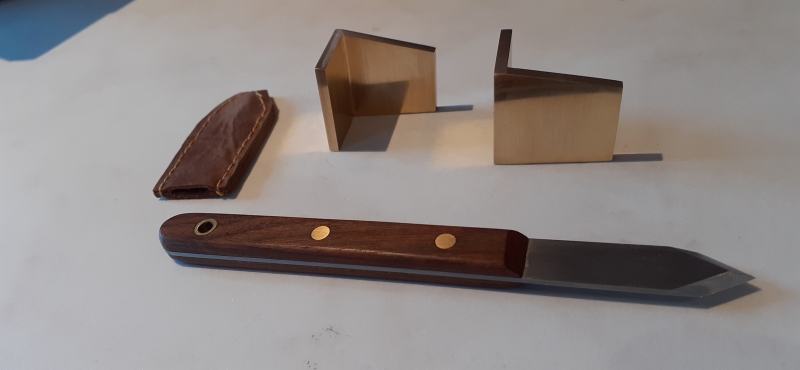 This will be my last Secret Santa on that particular forum.  With no warning, the forum and all its content was sold to a US company, probably in breach of GDPR. The new owner is an a**e and has plastered the site with adverts and driven away most of the longstanding contributers.

Chilli-head

Admin and Boss man




Posts

: 3189


Join date

: 2010-02-23


Location

: Bedfordshire



---
Permissions in this forum:
You
cannot
reply to topics in this forum